Hampi turned out to be more fun than I imagined considering how hot it was. I come from a more tropical region, but, man! it was hot! After exploring most of Hampi, it was time to hit the next destination.
As I get out of most places, I woke up relatively early on the 25th of April, at 5 AM or so, and started on the time-consuming part of the journey – getting into the gear and loading the bag onto the motorcycle, and strapping it. And soon I was out of there. My plan was to join NH67 and ride all the way to Hubli, around 125kms and then head to Gokarna on NH52. Although it was just 20 km to the NH67 and almost non-existent traffic, it took me 50 minutes. All thanks to the worst speed control objects on the road – humps. I went into one, totally unexpected, after a curve between two hills and I almost lost control. Moreover, I had to wait for a train to pass at a railway crossing.
While it was a slow start, the ride through NH was super smooth, cruising consistently at 110kmph. The best part was that I got to race with a train! The railways from Hospette to Hubli run parallel to the NH on your right. And there was this train so perfectly timed to be with me. It took me around 10 mins to overtake it though. One hell of a core memory. After riding for an hour and a half, I turned left to NH 52 and I was getting hungry I stopped at the first small restaurant I found. From the restaurant, I had a really nice Poori Masala and coffee. And after talking with the hotel owner for a few minutes, mostly talking about places I visited and Astrid, the motorcycle, I resumed the ride again. NH52 turned out to be a double-laned beauty, with sexy curves, and light green trees all around. It was scenic all the way to Gokarna. I was back in the western ghats, again.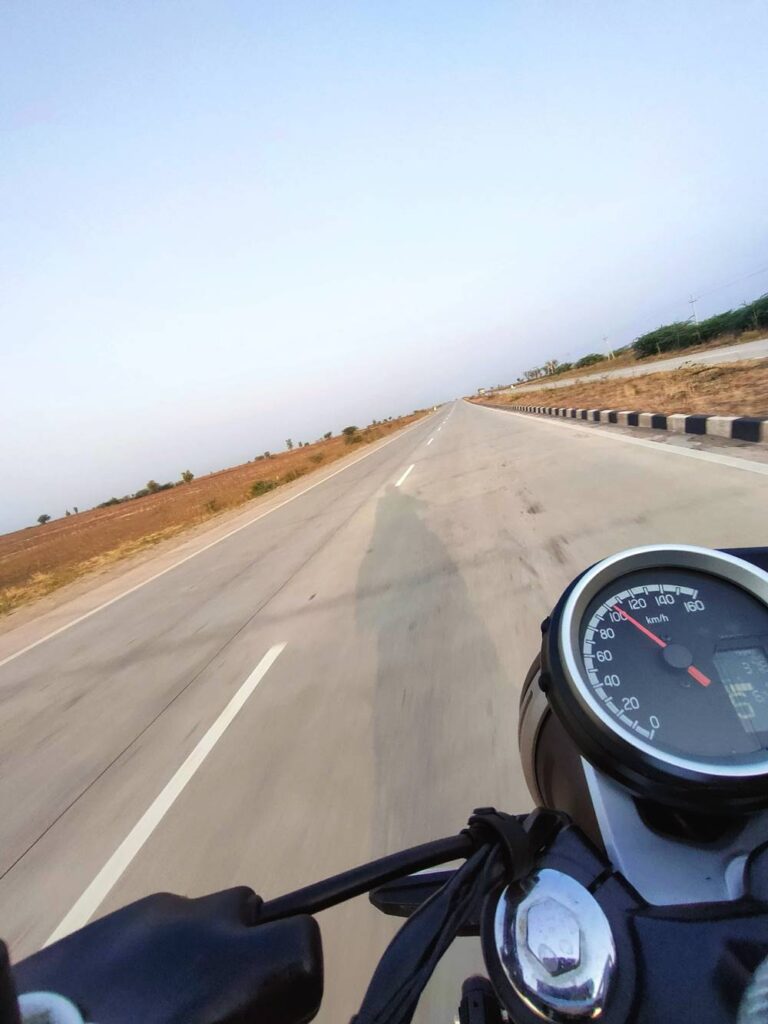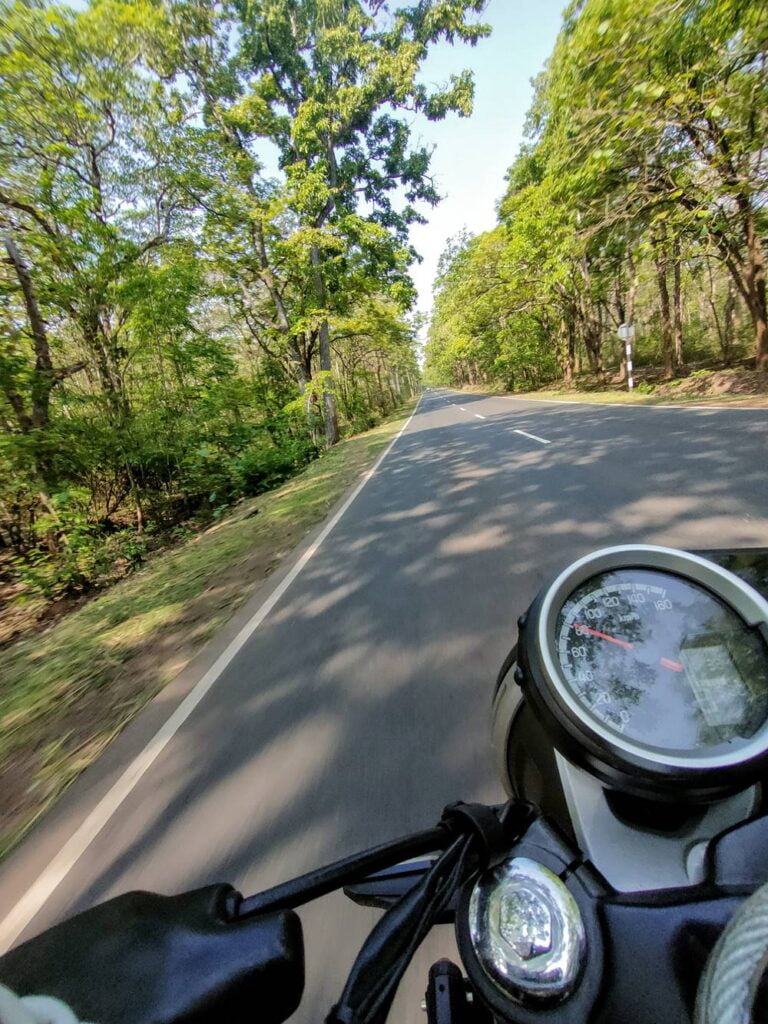 12-Year Bucketlist Check-Off – Yana
I reached Gokarna by noon. After checking in at Trippr Gokarna, which is inside Middle Beach, I decided to go to the only place on my Bucket list for so long – Yana. At first, I thought I will go later, the next day or something, but I was too excited. I felt like it was so near me and I had to go right away. The map showed one and a half hours – another 50 km. There was a lot of road construction on the way, but after turning into the narrow Yana cave road, something like a 6 km road deviated into the forest, and my excitement started to rise. At every curve, I was looking for the majestic black stones in between the trees. After a few curves, I did find them. If I was not on the bike, I would have definitely jumped up in excitement.
The reason I was so excited about Yana was that it used to be one of those places you thought was too far and deep that you could never reach. 12 years ago, I was going through a travel magazine – 'Yatra'. A magazine by Mathrubhumi. I don't know why despite a lot of great articles, I was stuck on the Yana caves. Yana felt alien for some reason.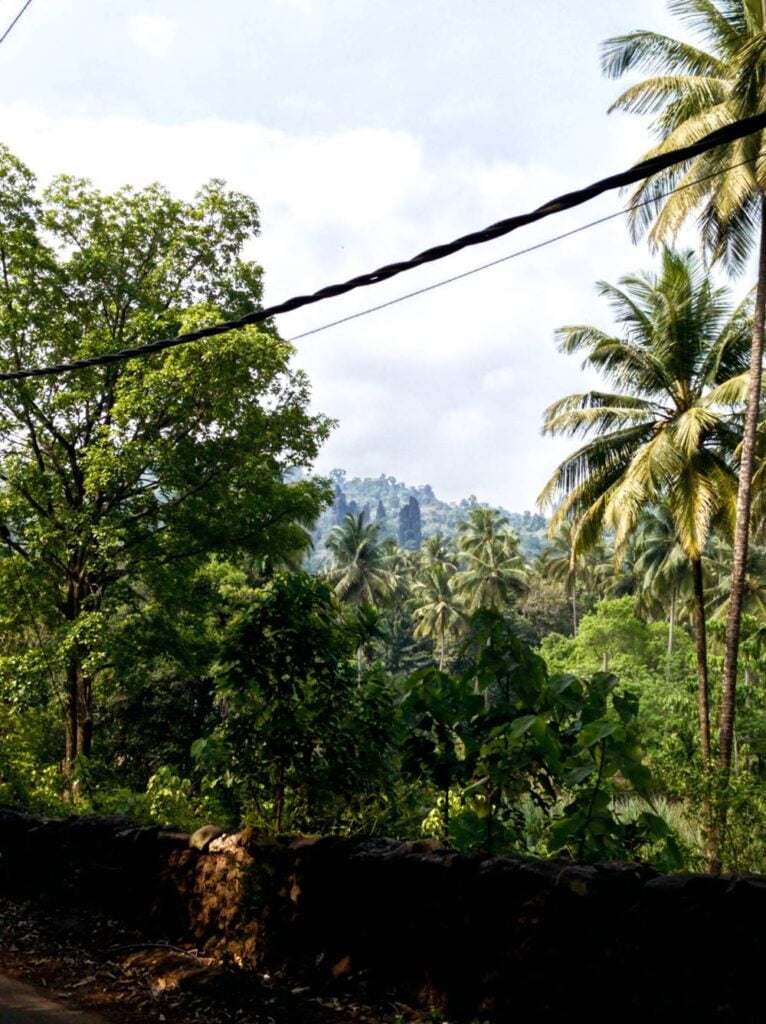 And that's exactly what I felt when I saw it for the first time – Alien. It felt like something out of place, two huge Krast limestone rock formations in the middle of a huge forest. There is nothing resembling 100s of kilometers around. I am not sure something like this exists anywhere else in the country. As you travel near it, the top of the caves disappears again in the thick forest foliage. I soon reached the parking spot. It was late around 4 PM. There were already tons of tourists there.
You have to walk 2km to reach the base of the rocks. It was mostly just a steep climb, yet I didn't stop for a second. I kept walking. The adrenaline of finally visiting Yana kept me going. En route in between the trees, you will get glimpses of the rocks. And they were becoming bigger and bigger. I just couldn't stop except to stop to take some pics. I finally reached the top, and all the trees in my frame moved over to show me the Majestic Yana caves! I was sweating like a pig and I could feel my heart beating out of my chest, but I felt like I did something incredible. There it was, the Yana Caves, right in front of me. 12 years after I first saw its pictures. There was a small store and I had to get some mountain dew to quench my thirst. And after calming down a bit, I continued into the caves… the scale of it is never visible in pictures. So I just stopped clicking pictures and just started to engulf all that in. It felt so alien inside the caves. It felt like it dropped into the planet from somewhere else. I spend a few minutes resting and just enjoying the caves. After which I started my descent back to the parking.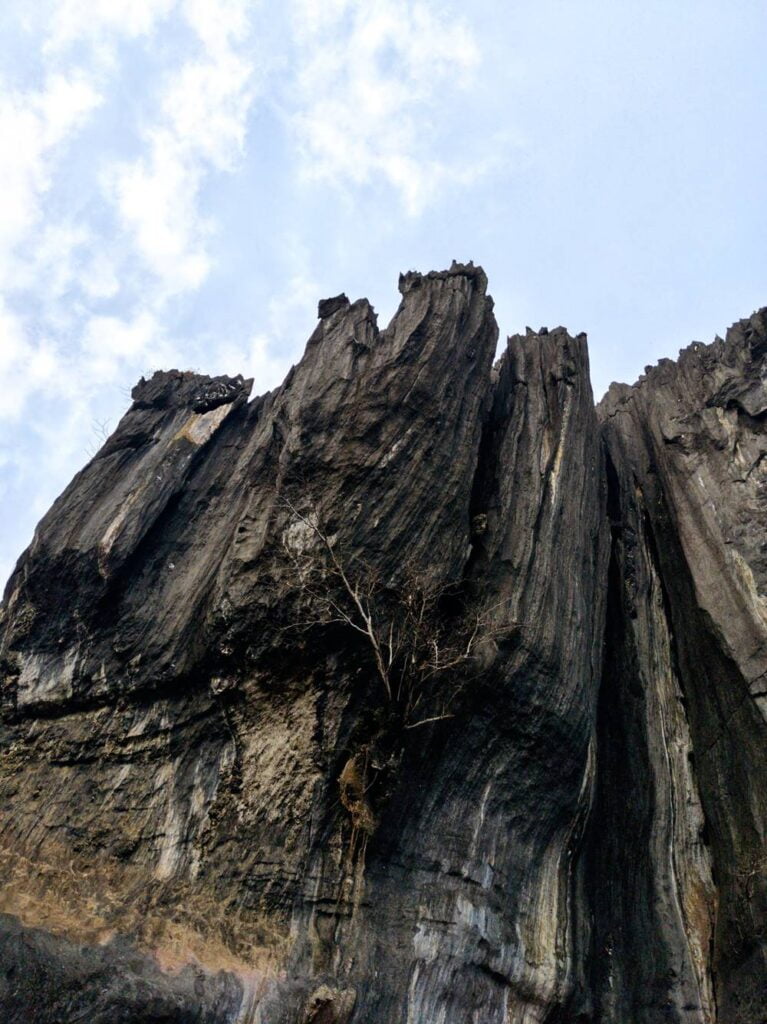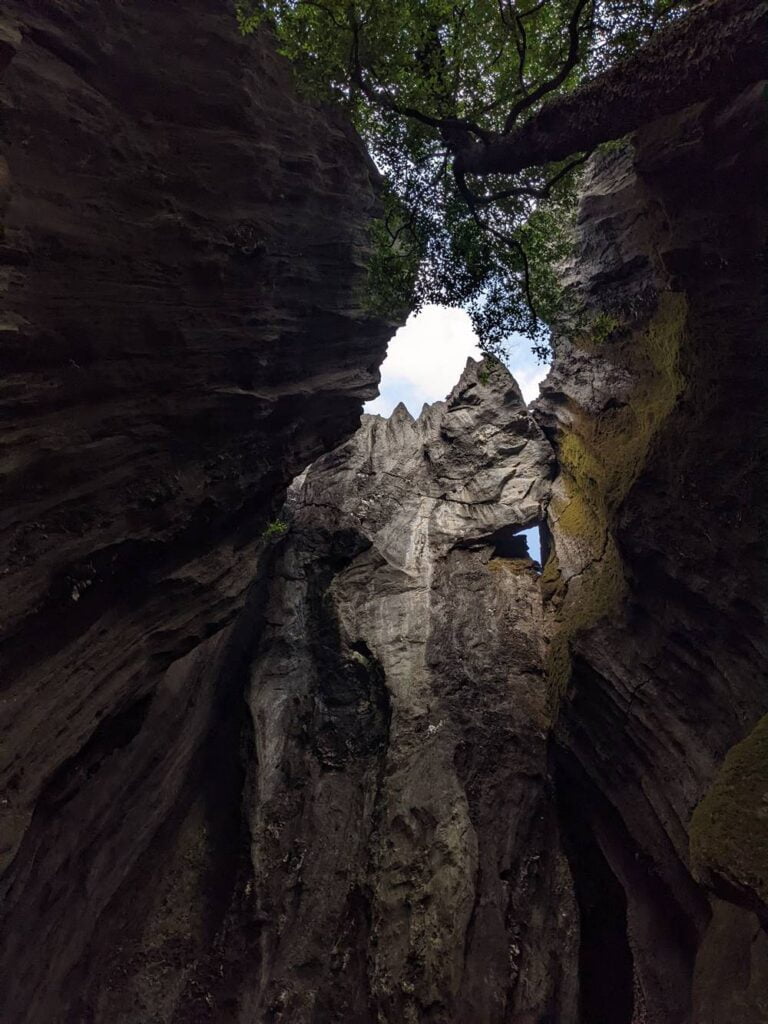 By evening, I left with my bike, content and happy, all the way back to Gokarna Middle Beach.
In Every Trip, There Could Be Bad Experiences.
Gokarna changed the way I was looking at the entire trip. After getting back to the hostel and eating whatever I could get my hands on, I slept peacefully. But the next day, I had something waiting for me. The next morning, I was up very early, ahem – 10 AM. And while looking around for some breakfast, from behind, I heard this voice. "Hey bro, you have a Honda CB 350RS, right" And I was like yes. "Bro.. Someone stole your mirrors and destroyed your seat". It didn't make sense in my head at first. And he went on to say that some people did it after drinking last night and did it to three bikes, all non-Karnataka number plated, including his RE Meteor. I ran to the bike, only to see it in a way that made me cry inside. You see, let me tell you something about me and Astrid. I love it. I love it to death. For me, Astrid is something living, breathing. Someone I take care of. Because when in time of need, I know Astrid will have my back. The fact just dawned on me that, the thing I love the most, the one that's been carrying me through the shittiest of roads and the smoothest of highways, was vandalized by some assholes who got drunk and wanted to do something.
I came back to the hostel wondering what ill do. I had to accept the fact that what happened had happened, and there is nothing I can do to change that. I made a few wrong choices myself. You see, Trippr Gokarna is 300 to 400 meters 'inside' the beach, which means you have to keep your bike on the road and carry your bags and walk through the beach to get there. Makes no one responsible for the vandalizing, other than the perpetrators. The next obvious step was involving the police, and me and Prafall ( The guy who told me about it. The guy with RE ) went to the Gokarna police station with our bikes. The policeman there was quite ignorant. We said, 'Sir, we will give you a complaint. We just wanted proof that this thing happened so that police in some other state will torment us for not having mirrors. (we never knew how much time it would take for us to get new mirrors, it was 15 day wait time when I called Goa, the nearest Honda BigWing service, a 150kms away.) What he said next fucked me up. "Don't give a complaint and all, You are tourists, what can we do?". That's the exact reason why those guys dared to do it, right? There were almost 100 bikes and scooters there. They choose to do it to 3 bikes just because they were out of state and they knew the police would do nothing. We came back disappointed.
By evening we met a programmer who came to chill in Gokarna. With his suggestion, we reported the incident via the Karnataka Police App. I described the events and posted the complaint by 5 PM. By 6 PM, I received a call from the Gokarna Superintendent of Police. And the same night within the span of a few hours, I received multiple calls from Gokarna Police, asking us about the incident, and why we didn't directly come to the police station. We were asked to come to the police station the next day at 10 AM.
And I did. They looked into the bike and said they would give me an incident report. That's all I wanted in the first place. It took them a few hours, but I got what I needed, and I thanked them for everything and got back to the Hostel. I kept it in a Pay-n-Park this time. Lesson learned. I and Prafal took a dip on the beach in the evening, just to cool our heads down. But I was done with Gokarna, all I wanted to do was get out of the place.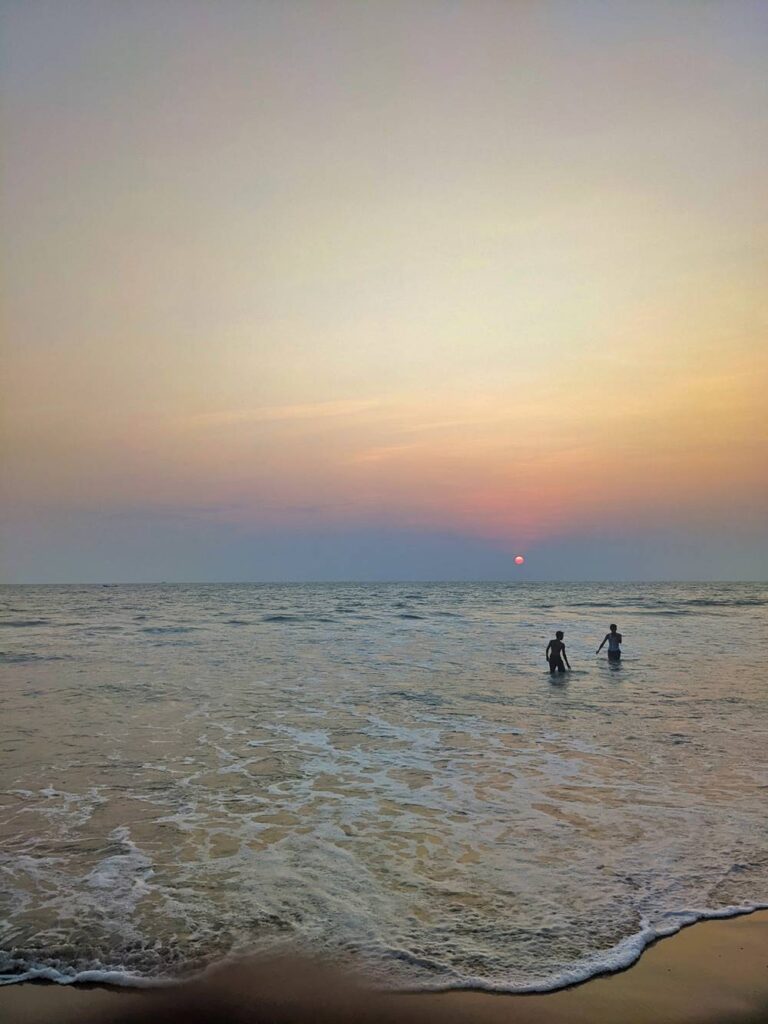 The entire energy of the trip was down at that point. All I wanted to do was restore Astrid to the previous state. I, with the help of a friend whom I met in Chikmagalur somehow got the mirrors shipped to the Goa BigWing Service center.
The Rant.
For the fellow riders who go to Karnataka, please be careful, interior Karnataka is no Joke. More than the places you visit, the people you meet are what create the ambiance. I got to meet a ton of good humans. But every interior Karnataka person I met was trying to get money out of me. Or made my trip harder. Mine is not the only incident. After the incident, I happened to hear tons of testimonials from riders and travelers who had terrible experiences in Karnataka. If you are a rider especially, ride with your helmet visors down, always. Because every now and then, there will be a guy on a small bike or scooter, who is gonna spit the pan he was chewing, not the left and down… He is gonna spit it as far as he can, to the right, to the second lane of the highway, as high as he can. And when you are riding at a 100kmph, you can see it happening, and there is nothing you can do about it but go through the spit.
Another good friend of mine, explained to me while he was traveling with his Bolero, Matilda (name already stolen for the next bike of mine), the people spit over the whole bonnet of the car. Imagine the disgust he must have felt to clean someone else's spit from his car. While I'm writing this months after the trip, this is not the last time I had to experience such people. More on that in the next one.