17th of April, Sunday was such a rush. After some urgent supplies and some time spent here and there, eventually, I could only get out of Payyanur at 12 PM. A couple of days ago, I was planning to go to Coorg, Karnataka on Saturday. Only to realize that almost every accommodation is sold out. And it is a weekend, sold out completely. After some thought, I decided to ditch Coorg and Mangalore. Booked a dorn room in Tripr, Chickmanglur. By 12 PM I was off, making good time. The NH being widened was the worst. Minor traffic jams here and there, but other than that, it went smooth. And after refilling for the first time in 5 days, I said goodbye to Kerala. Crossed into Karnataka via Kasargode. God and Google only know which route. I had to ride till 2 before I could find a decent place to have lunch.
The moment I opened my mouth to order I realized that I haven't spoken Hindi in 3 years, and it has gone to rust. I ordered somehow, and the food was okay. Continuing, I started to climb the western guts by 4.00. After converting only half of the distance. The most familiar scenarios started to appear. Mountains in the distance among clouds. Somehow that made me feel at home.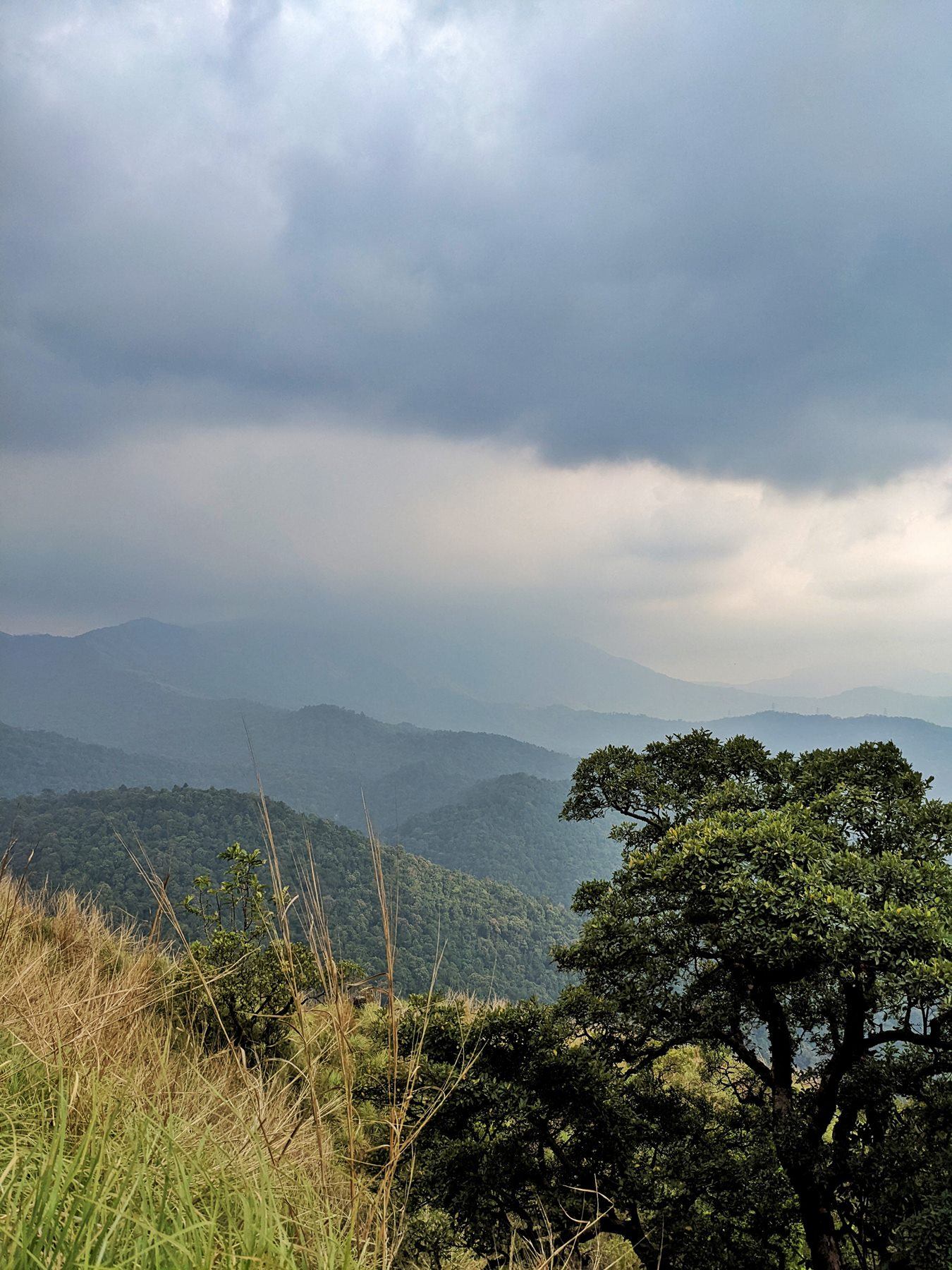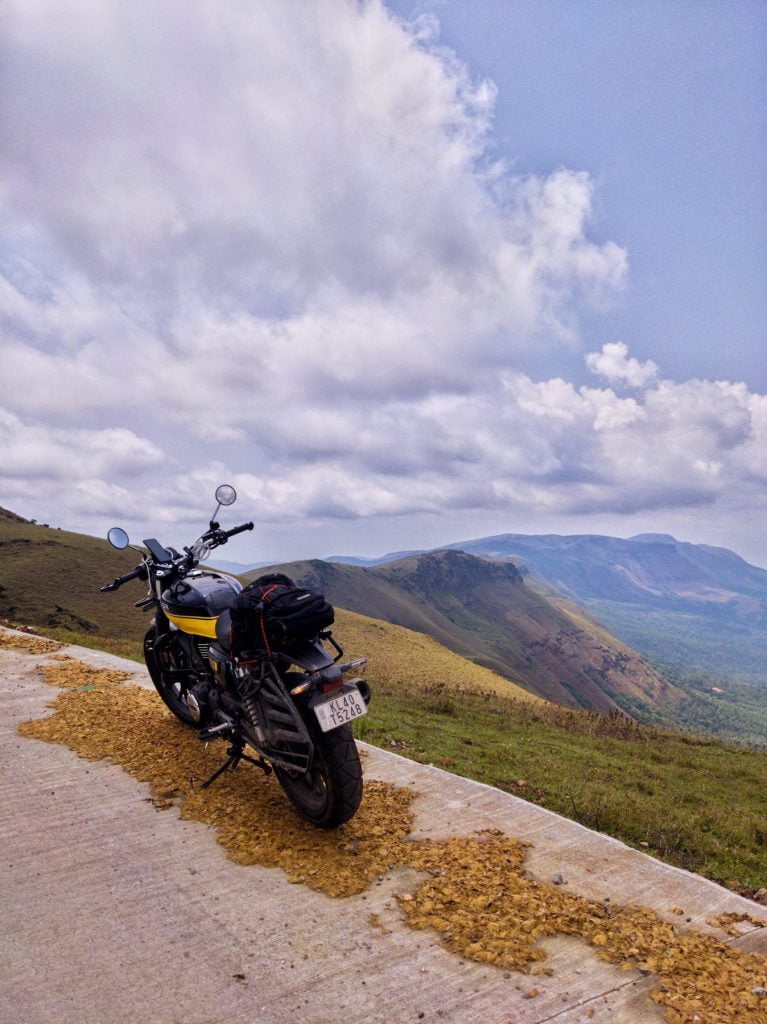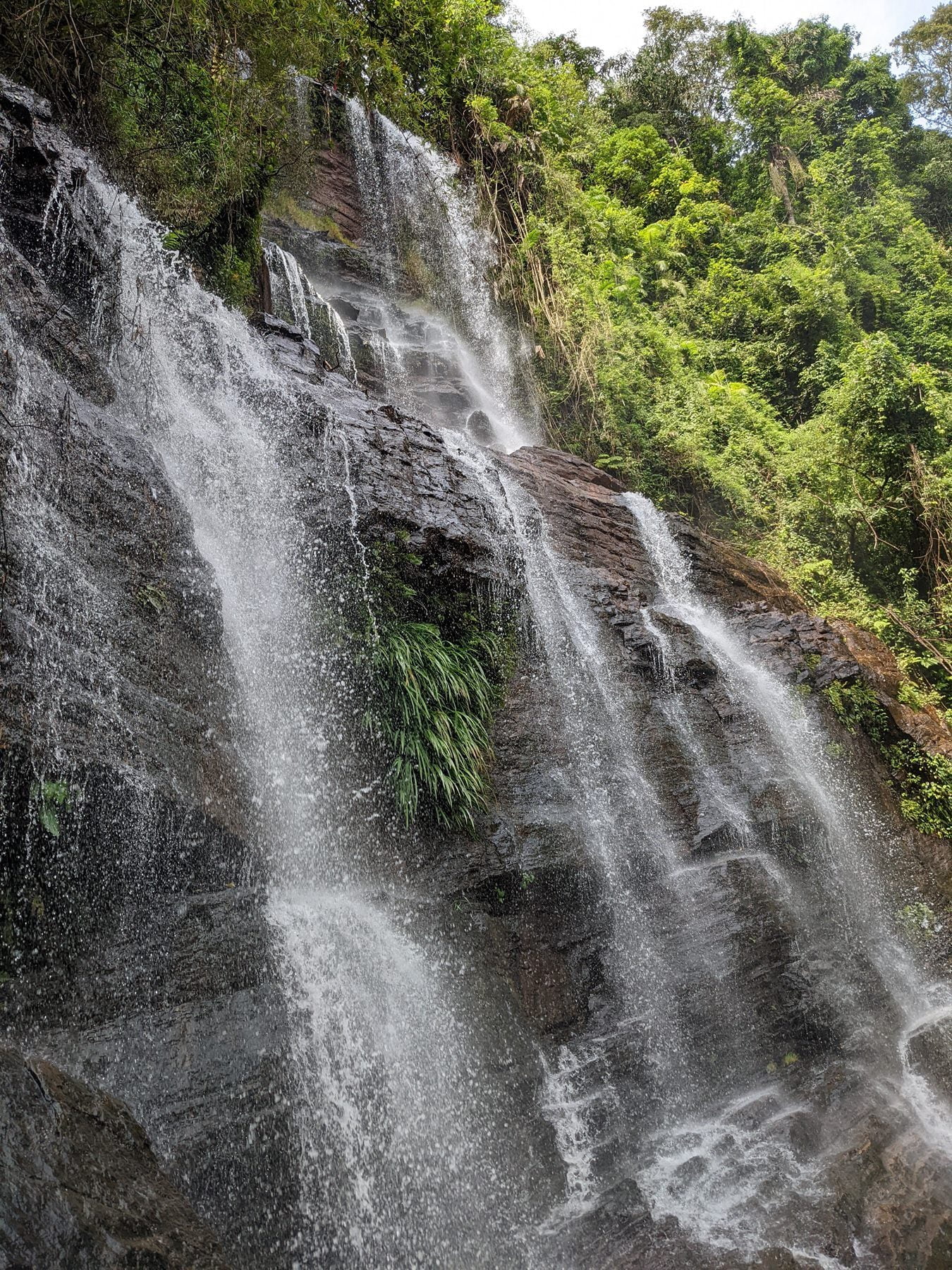 Although all the pleasures were to end with that. Within 5 mins of clicking the picture. It started to rain. Heavily. The worst part about riding with gear is that it takes time to make everything waterproof. I stopped under a tree, hoping that will lend some cover from the rain, and quickly put on the rain covers for the saddlebag, followed by waterproof liner for my jacket. It took me 5 minutes to put everything up and I was almost drenched. Figuring my pants are already fully soaked in water, I decided to continue without the rain pants. For the next 100 km, it kept raining, while my torso and bags were alright, the bottom part wasn't. I was cold to the point that i started shivering. And I just wanted the pain to end. My hands were frozen, and I would have done anything for a hot cup of coffee or tea. It took me another 60kms to find a coffee shop. Still having to go a few 10s of km I reluctantly jumped back into the rain on my bike. I reached the destination by 6. Taking exactly 6 hours to reach. The only thing I wanted was food and sleep.
I met Prasana at Tripr Chickmanglur, having arrived a few minutes ago and chilling. I ordered a chicken biriyani. Ate it. And slept off by 10.
Mullayanagiri Peak
And by morning 8.30, my usual wake-up time, I was woken up by some girl's voices. Turns out a couple of girls were just checking in. Since it was 8.30 already, although wanting more sleep but was unable to, I reluctantly woke up. Later introduced myself to those girls. Turns out they are from Lucknow. Priyanshi & Roshni. While @priyanshi_gupta04 is backpacking from Lucknow, @2297roshni joined her from Banglore where she is working. Long story short, those girls knew where to go and had all plans made. And told me I could tag along if i want to. I being the lazy person I am, joined them, cuz let's be honest, once you are a guy in your late 20s, who has time for making lists and plans?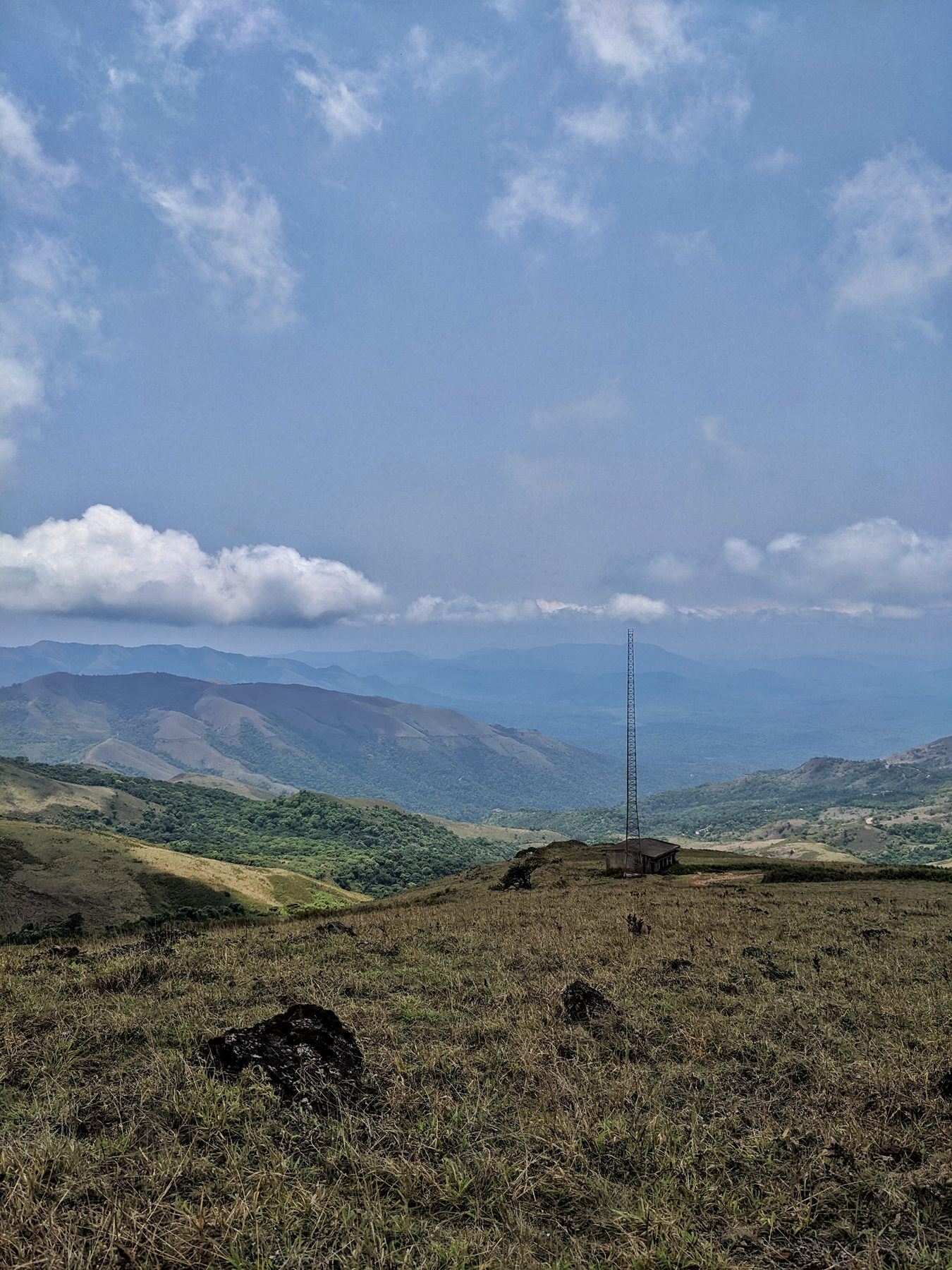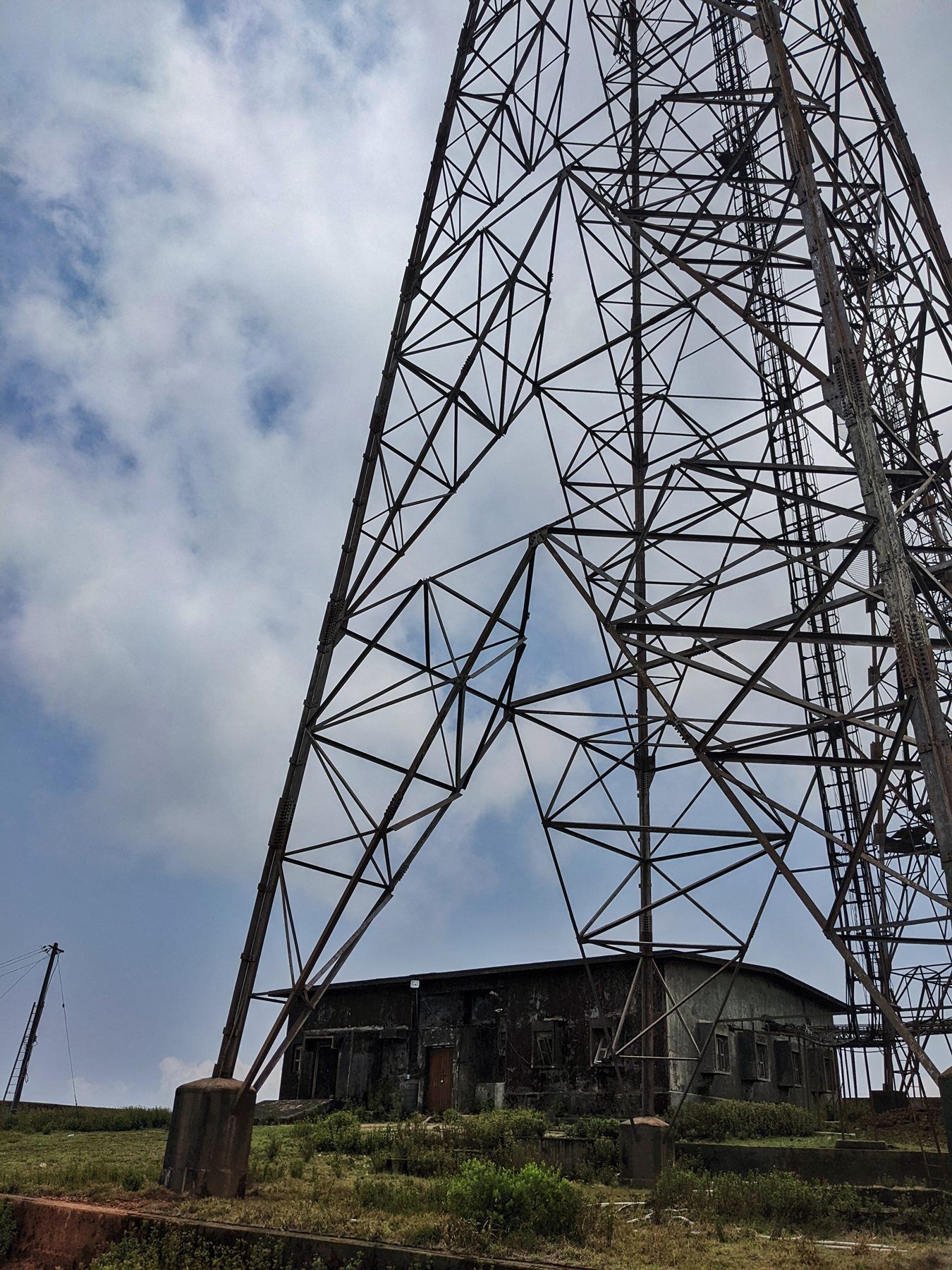 So I tagged along and turns out we synced pretty well. We went to Mullayanagiri Peak, which is the highest in Karnataka after an hour and a half of the ride. We talked a lot, took pictures, and climbed an entirely different hill just because we can. Had cookies up there and watched clouds together and talked a lot more. We got back and went to Buttermilk waterfalls. Spend some time there and got back, by evening.
The next day was all about visiting Belur. Which was my plan. In fact, while coming to Chickmanglr Belur was the only place on my go-to list.
Belur & Hoysala Empire
Between the 11th – 14th centuries, The Deccan plateau over Karnataka was ruled by the Hoysala Empire. From what I have seen, their biggest accomplishment is the Architectural design and technology they came up with. It's ridiculously detailed that your mind goes crazy looking at it. They built up numerous temples during the time and I happened to visit four of them – Belur, Doddagaddavalli, Halebeedu & Belavadi.
Belur temple is the biggest of them all, surrounded by smaller buildings and a pillar that rests only on 1 corner. The carvings are simply breathtaking and detailed. The biggest example of this architectural marvel is Darpana Sundari – a 2 feet sculpture of a dancer on top of the temple right under the roof. It's so detailed that you need a DSLR to see all the small details. The curves, fingers, and ornaments are so detailed that it feels like it's alive. The pillars of the temple are actually made of lathe-turned rocks. Imagine that, the technology to turn granites that are sometimes 15 feet long and 2 feet in breadth. It's almost impossible to think of such tech in modern times, calling for much-sophisticated technology. And they did it 1000 years ago, using nothing but hands and wood. All Hoysala temples have similar architecture. It's not ideal to talk about each temple.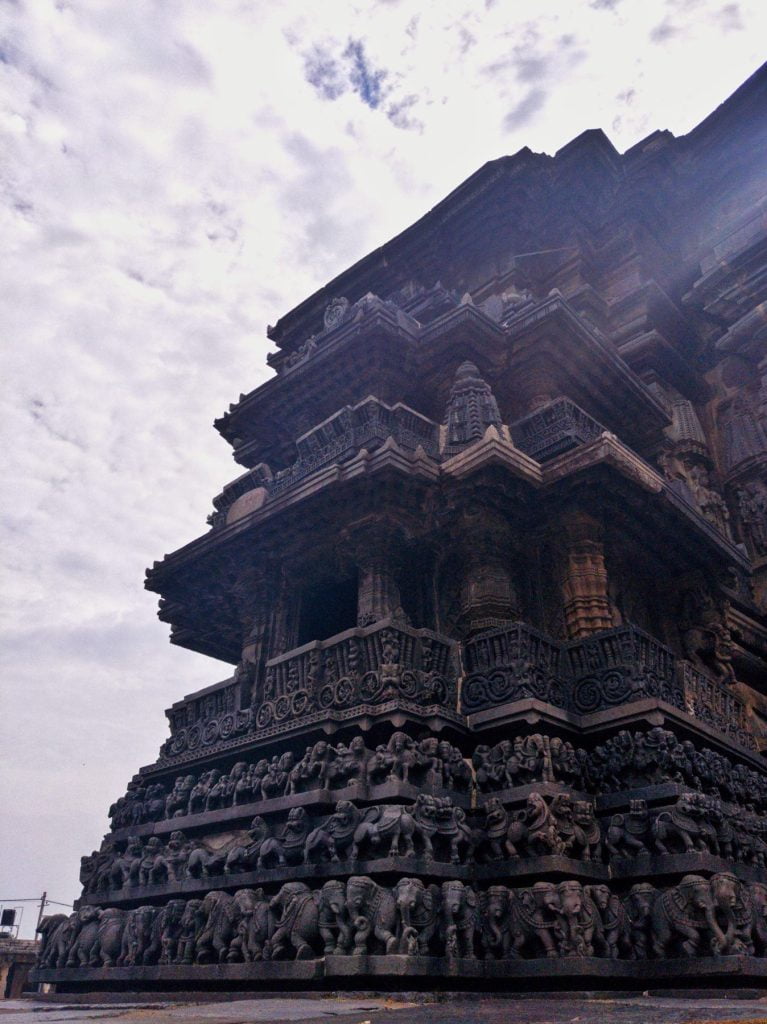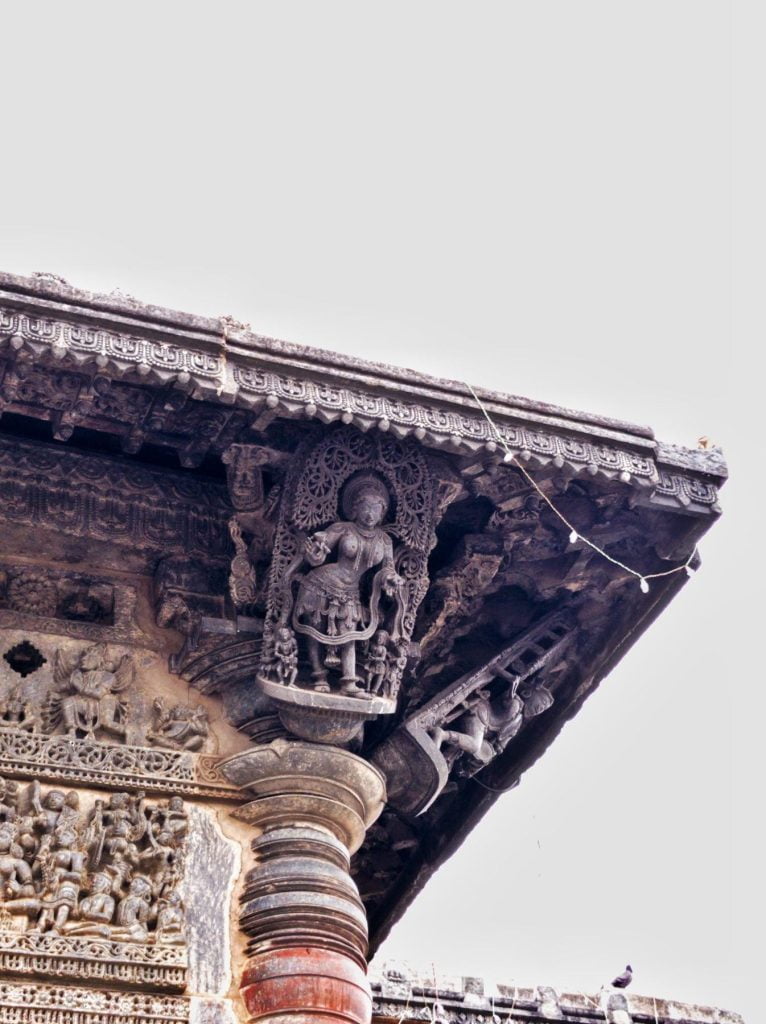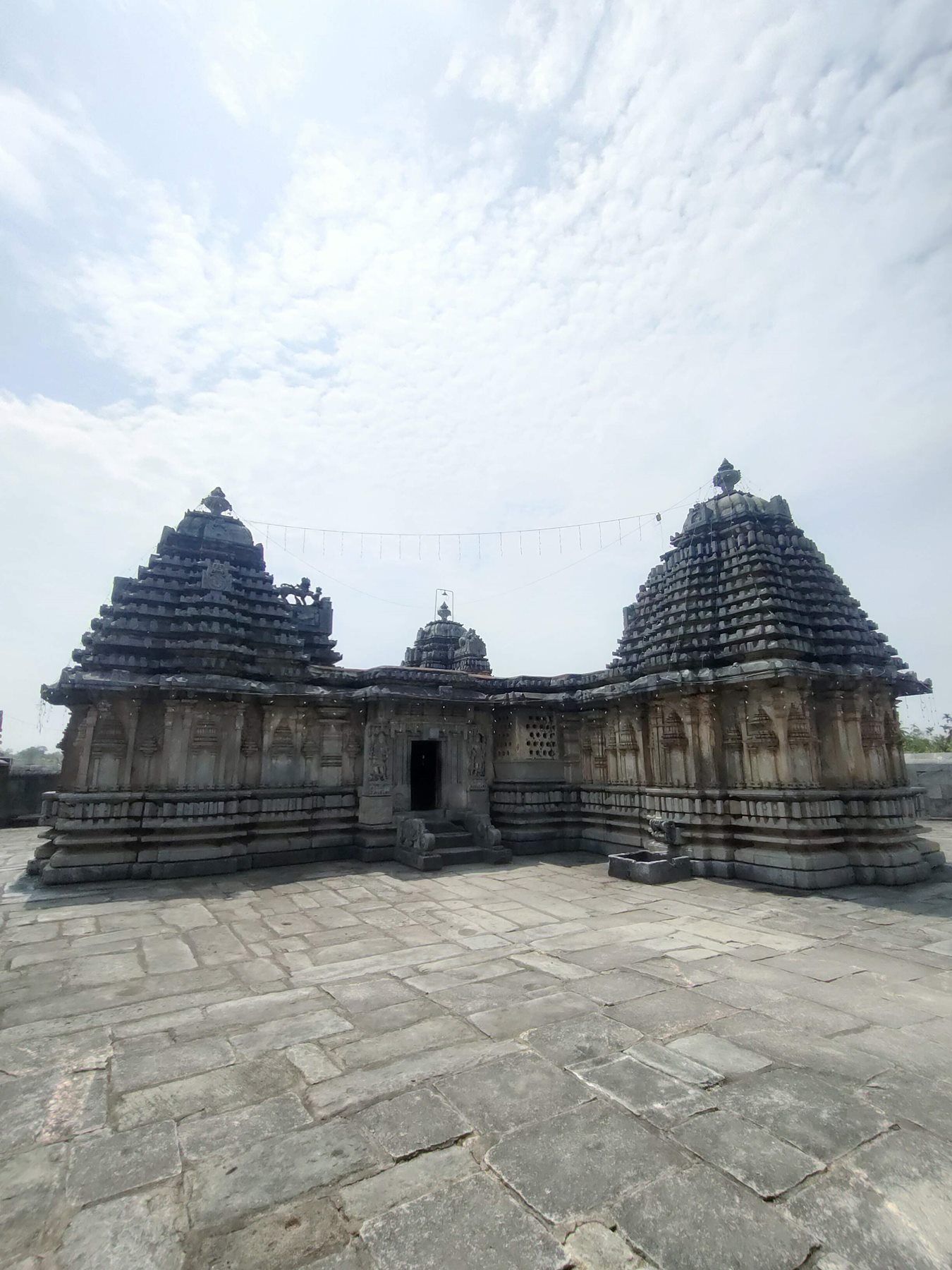 Although, this blog is not complete unless I talk a bit about The Lakshmi Devi Temple in Doddagaddavalli, which was so inside a village that only we were the people there. The temple has three gopurams and 3 deities. We were able to go inside the temple, and what is interesting is that there are two statues, demonic corpse-like ghosts that protect the chamber of the deity – Kali. And this is the only temple that has the Kali in its calm state, every other one being aggressive-looking. We talked a bit of history with a local and moved on to the next temple. Halebeedu temple had the most amount of carvings.
We reached back by noon. Had our lunch and I head back to the hostel and the girls went to roam around a bit more. Priyanshi and Roshini were to leave for Bangalore that night. I met them again at night for dinner and sent them off.
I extended the stay at Chickmanglur for one more day, as I had to catch up with some work. The guys were still there – Prasanna and Ajinkya. We chilled a bit and had a nice swim in the pool on a very sunny day. That was fun. In the evening two more guys – Kaushik & Nikhilesh ( we lovingly call him Major, cuz he served in the army as an ENT ) checked in and we went for dinner together. It was there, that my first-time introduction to Dal Kichadi happened. For a guy who eats non-veg all the time, tasty North Indian veg food is a little hard to come by. Especially Dal Kichadi and all, you don't even get that in Kerala. The thing about veg dishes is that if it's average, it doesn't taste that great. But once it's good, it's really good!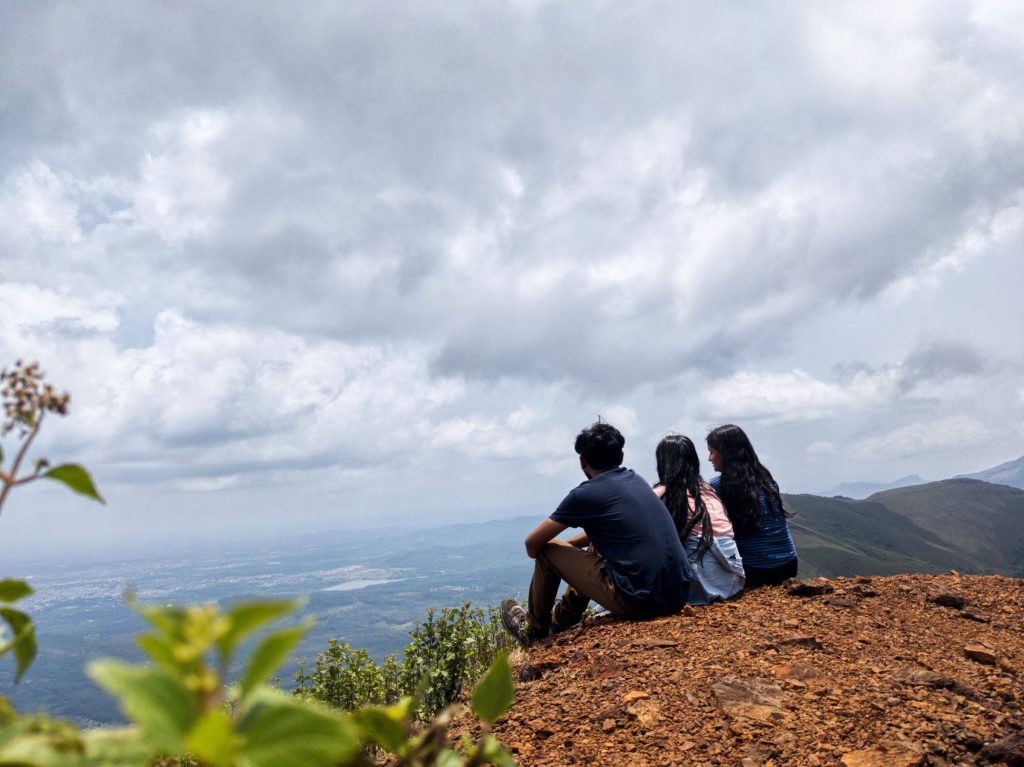 The next day, it was time for me to pack up and leave. All the way to Davangree. More about it in the next part.