ON THE SHORES OF MANGLORE
I slept late on Tuesday, Firstly cuz' i was sleeping all day long, Secondly I was so exited about the trip. Finally after waiting for a while I am going to Manglore. And the most exiting stuff of all is that i am going ALONE. Its my first trip in which I will be alone, no parents, no friends, just me. Well, the train was at 11:33 am from Alwaye – Parashuram Express (Trivandram CTRL. to Manglore CTRL). I left home a bit early at 9:40 or so. There was a slight rain and I had no umbrella. So I had to walk the whole way in the rain. But I enjoyed it a lot. I  just felt that pleasure when those tiny drops touched my face. I reached the railway station and then I took a ticket to manglore. it cost about 91.00 inr. I had to wait for about 1 hour in the 3rd platform.
N' yeah… I forgot to tell you.. I was receiving enough advices. Ahh…. man  that sucks! Do this.. do that.. blahh… blahh… Common people! I am 18 years and 20 days old. I know what to do n' what not  to do !!
The train arrived at 11:35. I got in settled some where. I began to read John Grisham s, 'Playing For Pizza'. Unlike the usual grisham stuff it was all about an American footballer going to Italy to play in some random club after getting thrown out of a very famous club in the NBA. Between I relayed on my GPS to know where I was. Hours of nothing to do gave me enough time to dream, look around, take photos and mingle with people. But I had strict advices that i should not do the later so I resisted it. So far so good… By 6 pm it started raining. There was enough fog outside and very less people in the compartment. I wished to take pictures.. But damn, I am scared of fungus.
The only awkward thing is that there is something called roaming charges and I didn't think of it until I received a message from BSNL (my network carrier). You know, there are some good ways of people implementing things on us that we don't like. The message said "Welcome to BSNL Karnataka.['thank you'] Have a pleasant stay.['okay,thanks again'] While roaming all your incoming calls are also chargeable.['Huh? that doesn't sound pleasant to me']"   :: my reaction is written in square brackets ( [] ).
By 8:10 pm I reached manglore central. My Aunt Anija, uncle Abraham n' three of my cousins Anju[12], Abia[7], Aby[7 months] were waiting for me at the end of the platform. We all went home, had our dinner, and just talked.. you know the usual stuff…
VISITING MALLS .. N' TRYING NEW FOODS…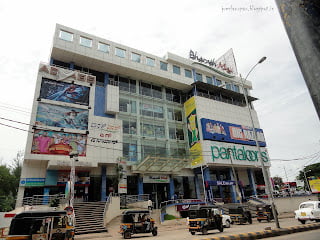 Bharat mall
Visiting Manglore ranked forth in my WISH LIST. And most times I was wondering what I will do after getting there. Manglore is not a kind of tourist spot. I kept thinking and huge shopping malls were obvious answers. The most nearest mall was Bharat Mall also (popularly) known as Big Bazaar (just cuz' of the Big Bazaar Store in the mall which is really big). There was nothing much there. After spending some time there I just went to The Sybene Complex. Its the oldest shopping mall in Manglore. It was a land mark once, once…
From sybene food court I had Pani Puri n' Bhel Puri. Both are Chats. Let me tell you something before i go further into these foods, to my surprise, foods were damn cheep there… The content was more n' cost were low and also i didn't see a single item in the menu that was priced more than Rs.100. Pani Puri and Bhel Puri was just 15 inr. And it was a kind of thing that I havent tasted before. First, I didn't like it. But the second one just got me.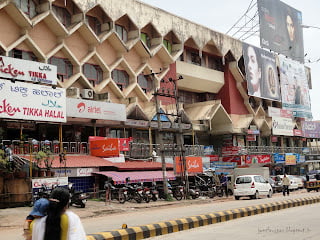 Sybene Shopping complex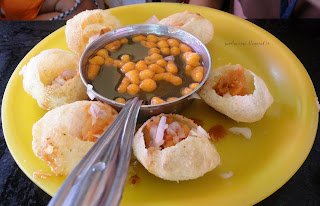 PANI PURI is a popular street snack in Pakistan,India, Bangladesh and Nepal. It is round, hollow puri, fried crisp and filled with a mixture of water, tamarind, chili, chaat masala, potato, onion and chickpeas. It is small enough to fit completely into one's mouth. It is a popular street food dish inMumbai,Karachi,Lahore and Kolkata.
Bhelpuri is made from puffed rice and Sev (a fried snack shaped like thin noodles made from besan flour) mixed with potatoes, onions, Chat masala and chutney and mixture (a mix of different types of fried snacks), as the base of the snack. Other commonly used ingredients include tomatoes, onions and chilis added to the base; In northern India recipes also made by adding boiled potatoes cut into small pieces.
At night I visited 'The City Center', which, as compared to any malls i have visited, is the biggest. I had some fun going around, seeing things. But the biggest problem is that i don't know bowling. So now it is under my 'MUST STUDY LIST'.
BEACH………
13th July 2012 was a damn boring day, until my cousin asked me to change my dress to go to the Panambur Beach. So there I am spending most of my evening in the beach. As compared to the beaches in Kerala, this beach was clean. Manglore Port is nearby and it is an industrial area, still…. the beach was beautiful. Anju n' Abia made a sand castle ( And I was the Architech !! )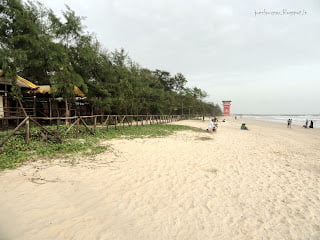 Panambur beach…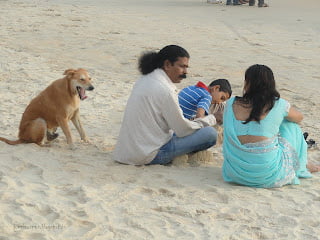 the yawning doooggg..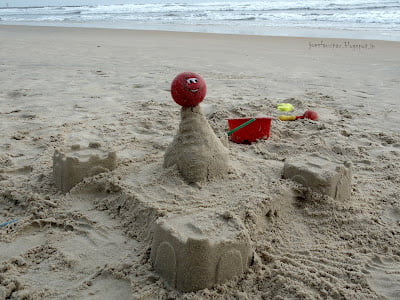 the castle…. Now who is there to beat that smile
More Photos HERE
THE CROW WHICH POSED FOR ME..
Saturday was a big day for me – lot to travel n' lot to watch. Buying fish was primary. So we went to the market to get some fish. While my aunt was busy buying fish, I went around cliking almost everything. Then I just noticed a crow with a big fish. when i started to take photo it moved nearer n nearer like it wanted me to take its photo. Sometimes nature surprises us, right?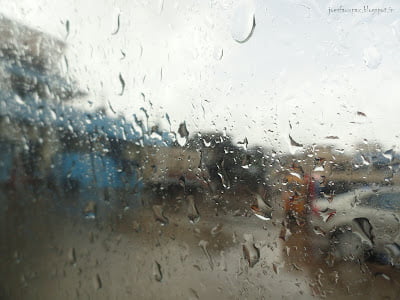 it was raining outside…….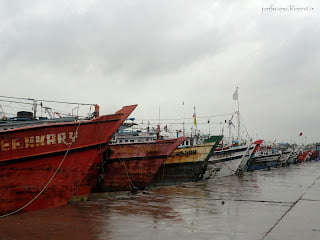 The fissing boats in manglore harbour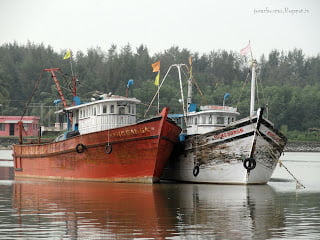 looks like i found my mate… 🙂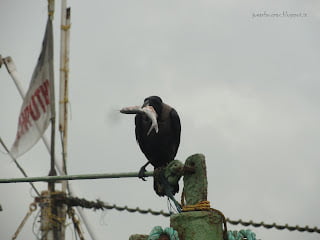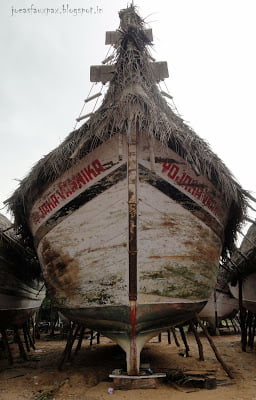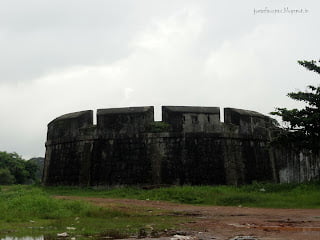 watch tower ,Sultan Betery, Boloor
From  there I went to Sultan Betery, Boloor (NOT to be mistaken with Sulatan Battery, KERALA). History goes like this … "Manglore (reffered to by greek geographers Pliny(AD 23) and Ptolemy( AD 150) was ruled by Alupa rulers for a long time. In 1526 AD Manglore was taken over by Portugese who were subsequently expelled by the Nayakas of Bidnur in early 18 th century. Haider Ali captured manglore in 1763. In 1768 it went to the hands of the British. Sultan Beteri, a watch tower is said to have been built by Tippu Sultan to  contain the warships into the Gurpur River. Though it is a simple watch tower, it looks like a miniature fortress with its many musket holes for mounting cannons all around.
Right beside it, there is a place where they build and repair all those fishing boats.
ICE CREAM AT IDEAL…
There are two things I love to eat – Chicken and Ice creams. Manglore is damn famous for its ice creams. So there I am in Ideal Ice creams, to have one. I had a 'Parfait'. Some ice creams has got weired names.. so hard to keep in mind. Gadbad is the ,most famous one.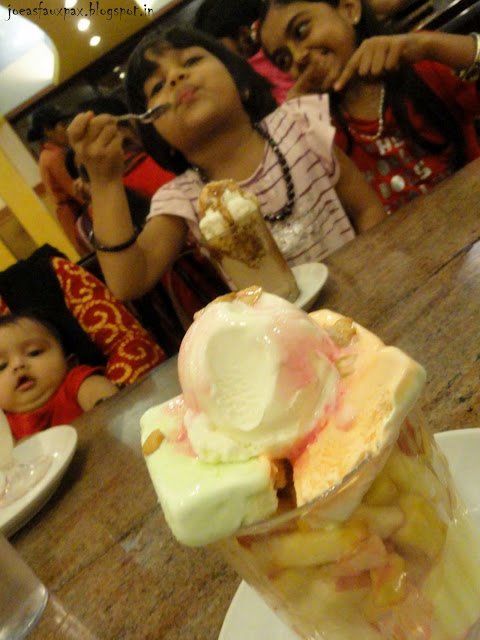 my Parfait
PILIKULA….
Its just an ordinary zoo. And the truth is that i have never been to a zoo since my 2nd grade. They have got everything there, from deers to panthers, rat snakes to black mamba, n' pigeons to rare owls. I didn't find any 'Dont feed the amnimals' Board. And as a matter of fact…no one I found there was doing it.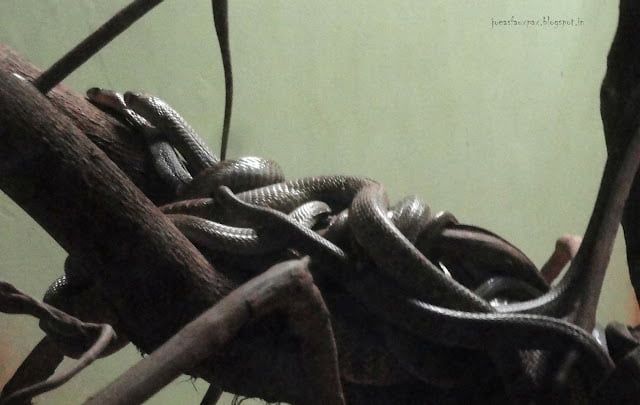 BYE MANGLORE……  ITS  HARD  TO SAY IT   BUT STILL… I GOT TO GO…..
I was supposed to get home on Monday. But my cousin took my backpack and locked it in her cupboard. She was so stubborn that I had to change my decision. I stayed on more day watching HBO n' AXN…
There are lot of things that this trip taught me. Both good n' bad. And when it was time to go back I was more happy than ever. 'Satisfied' might be more proper. And that's the exact reason what we live for,huh? – SATISFACTION.
More Photos HERE