Ever since we ( Me and Binu, Editor @ Teezonic ) found out that Redraw is coming up with the trek to Kodaikanal from Munnar, we have been super excited. This is the story of that one time, we went for the trek. 

Aashin found himself driving us to the Ernakulam Bus Station at 1.30 AM on Saturday, 26th of Aug. I lightly packed my backpack, and I was using it for a trek for the first time. We met the team leader of the group, Sreeraj waiting with a lot of others at the bus station. Everyone was waiting for the bus to arrive. We were told to jump on it the moment it comes in as the ride is gonna take 4 hours and its gonna be a huge rush. As soon as the bus came in there was a huge crowd at the door. But we quickly found seats. After four hours and some sleep later, we found ourselves gliding the cold winds of Munnar.
After reaching Munnar, we checked into a hotel to refresh and to eat breakfast. We met our fellow trekkers and had a great time with them. Later at 7.30, we hopped on a bus that took us to Top Station, which was the starting point of the Trek. It's crazy at times how fast the bus drivers can ride through hilly areas and hairpins. After 40 mins, We all assembled at Top Station. Bought some biscuits and water bottles, packed them up and set out for the trial. I and Binu had an agreement not to use the network and cut us off the outside world. This is something that came out of our crazy digital life, tied to a cable's end at all times. The trek was our way into freedom for at least a couple of days. So, we both put the phone in airplane mode.
We started off from there. We were supposed to go downhill as explained by the team leader. We walked beside the most beautiful landscape you can possibly imagine, with the Meeshapulimala on our sides. We reached a village in between, by noon and we had our packed lunch. After resting for half an hour. We started off again. Then came trouble. The trek became a little bit steeper. It presented a problem with my shoe. It was starting to hurt my little finger. After hours of going down the hill, we reached a stream. We had tons of time in our hand, so most of them simply played in the water. As soon as I reached the stream, I removed my shoes and dipped my legs in it. I have never felt so good. In fact, it was the best moment of the entire day. After an hour more of the walk, by 4.00 PM, we reached the Kurangani village. The tends were all set and ready for us, at the Forest Camp.
I and Binu became buddies with two of the fellow trekkers, Midhun and Vishwas, we both spend time with them all day. I was super tired and slept off as soon as I reached the tend. But Binu & Midhun went to take a stroll through the forest. Due to our laziness, we missed out a bath in a small pond by the river that a few people enjoyed that evening. Apparently, they discovered it by chance. By the time we came to know about it, it was late. By 8.30 PM, we had dinner – a good amount of rice and chicken. We also got time to talk with a lot of people, before we excused ourselves to the tend. We learned about the other cultures that people came from.
Day 2.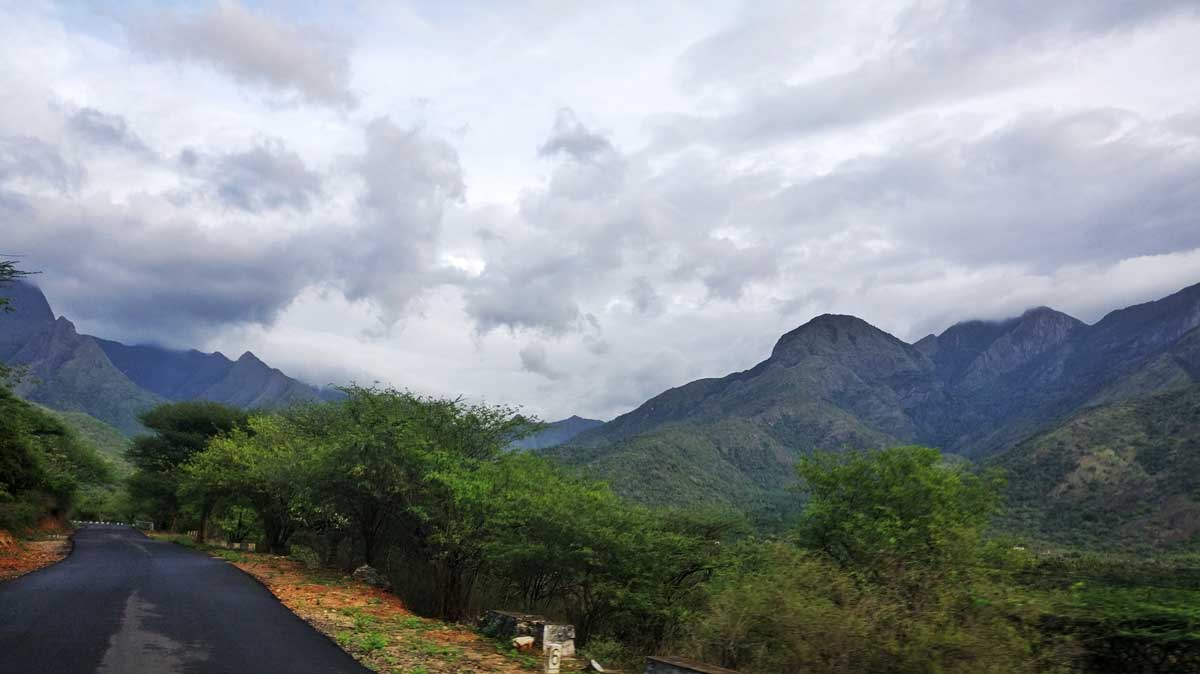 I woke up by 5.00 AM, although waited a little bit more inside before getting out. After chores, I packed my bags and it was time for the next phase of the Trek, We had to travel the planes of Theni by Jeep. Honestly, being in a vehicle in between the trek is actually a letdown. But it was later made up by the trail itself. We deboarded at the end of a Mango Estate somewhere near the Vellagavi forest area. From there we started off the next trail, though the ranges of Vellagavi. The climate was a little hot for almost an hour before the forest started to cover up the landscape. We were slowly gulped by the thick rainforest. The trek was steep. Apparently, Viswas was too fast for me so I stick with Binu & Midhun. We had fun, singing songs along the way, talking tons about each other and clicking pictures. The cold air brushed us all over and we were enjoying every bit of it. We refilled our bottles from the streams in the forest. By noon we reached the very remote village Vellagavi or whatever its called. The only in and out of that village is the trek trail. The villagers walk all that we are going through on a daily basis. After eating our packed lunch and resting for about half an hour, we started off again, to climb the next range of mountains. No one prepared us for what came for the next few hours. The mountains started to become steeper and we were losing our minds. We were literally running on a pack of glucose that Midhun had. We walked for 10 mins and rest for 5. After a while, a mist started appearing all around us. Later we realized that it was just the clouds. Yep. We were walking among the clouds. Later this mist started to condense and then came a fine rain. #Awesomeness. At one point there was a rock that was merely 20 cms high, and I just kept looking at the rock for a couple of minutes before summoning the energy to climb it. After hours of painful walk, to our surprise, we suddenly reached the top. And I opened my eyes to one of the most beautiful scenery I have ever seen. Nature gifted us with a rainbow which only lasted for about 5 minutes. We put down our bags and sat on the edge for 5 minutes and didn't talk a thing. #LifeGoals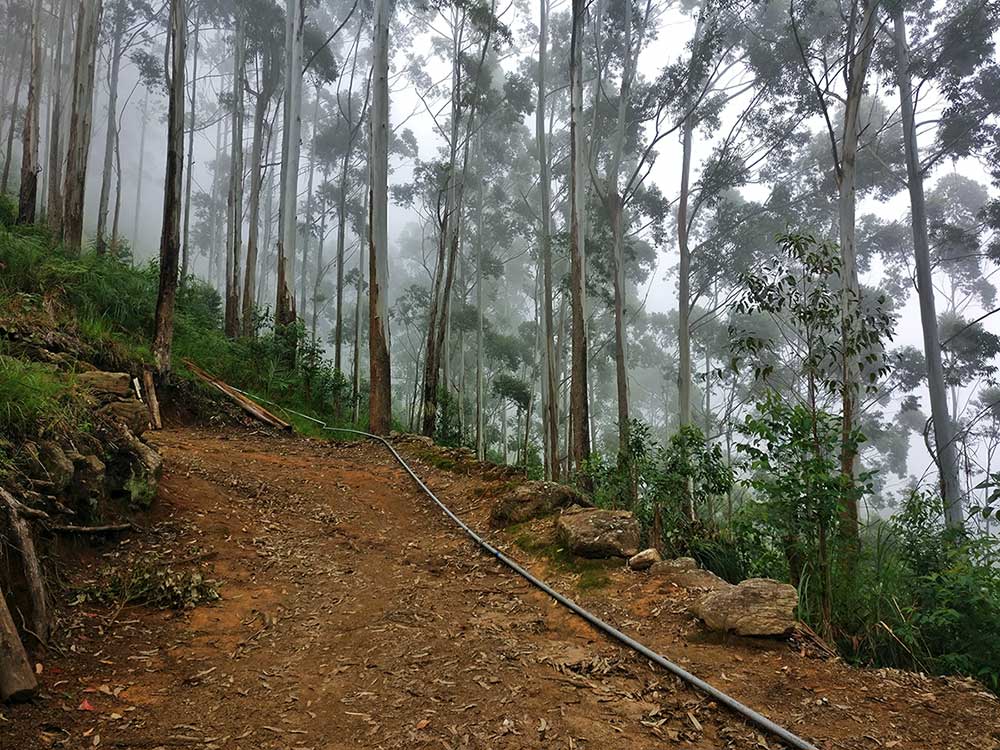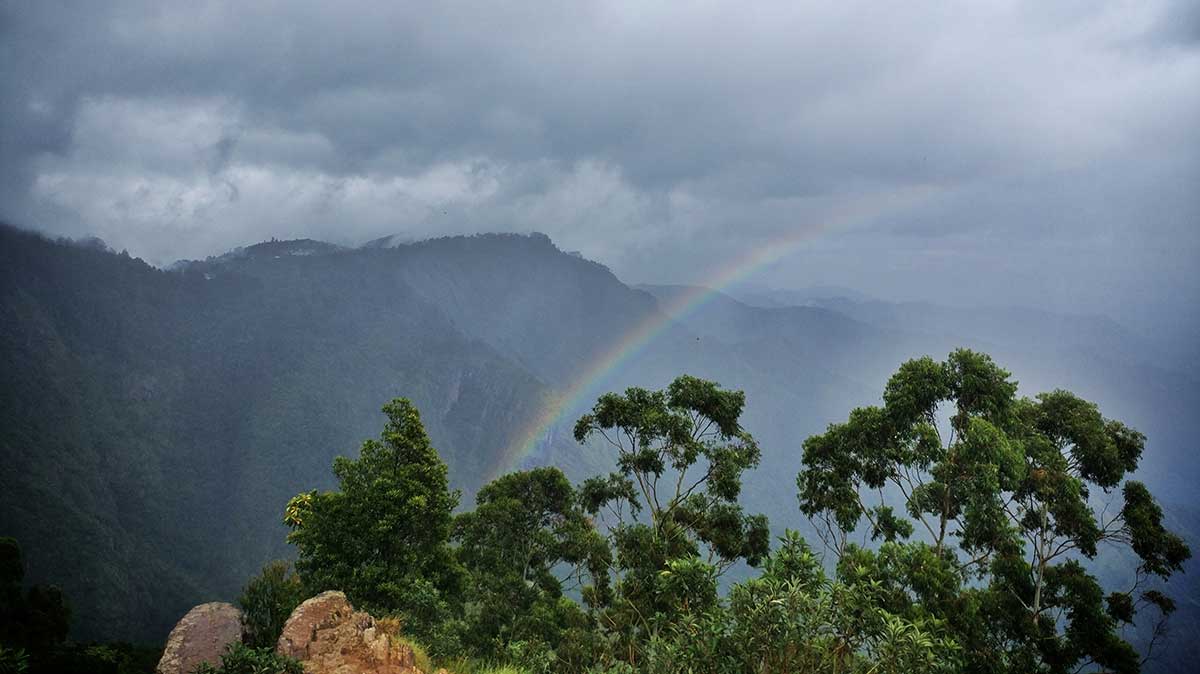 After this, all we wanted was to get home, and everything happened in a beat. We reached Kodai from Dolphin Nose by bus. From there took a taxi to Palani. A bus from Palani to Thrissur. A train from Thrissur to Kochi. Home by 5 AM next day. Whats life without the stories we tell? And what are stories without the people that are in it? Don't know how we would have made it out without Midhun and Vishwas. We still keep in touch. Found Viswas in a swimming pool in Kochi one day. Small World. 😛