My love towards bike started at a very young age. The first bike I ever rode was the Suzuki Samurai, in fact, I learned how to ride on that machine, my teacher being my uncle. Ever since I have been crazy about it and I go off to the road every time I have an opportunity. I have been talking about leaving one-day early morning to somewhere to wander off for quite a while now. The other day, on the 3rd of Dec, that's exactly what I did with Bajpan Gosh & Binu Varghese. In a way, I was testing out my dad's most recent toy, a double decade old RE Bullet 350.
On Sunday morning 5.30 we zipped our jackets, wore the gloves and started off to Athirappilli. It was bizarrely cold that morning. While the red twilight of dusk started to appear we were swifting the winds through the highway. Instead of the chirping birds, all I could hear was the bullet's dhudd.. dhudd.. Due to some reason, it was so fulfilling. After about 1 hour ride we took the left on to Athirappalli road from Chalakkudi. What came next was single-handedly one of the best riding encounters I ever had. The sharp big turns and the morning sunlight bleeding through the forest canopy were a genuine rapture. We halted at some spots to take pictures. Apparently, Bajpan turned out to be crazy about taking pictures (of himself.) *coughs*
Since our primary aim was to enjoy the roads and not sightseeing and additionally since we have been to Athirappilli a hundred times, we decided not to stop there. We kept going. There is a forest check post after the Charpa waterfalls. You will need to take permission from them to pass through the jungle. The road straight goes up until Valparai. We then decided that we will ride till Valparai. We had plenty of time in our hands and Sholayar forest range and a very narrow, wildlife-filled road lay ahead. We went with the pleasure of riding. After 10 minutes into the forest, we met up with a few other riders, and we started riding together. In fact, there were 4 groups of about a dozen people. We all rode together for a few kilometers until my bike starts to overheat, I believe a typical old bullet trait. We let it cool down for a bit and continued.
The road was twisted and turned. And we were expecting a pack of elephants at any curve. Yet, luckily we didn't find any. Soon the lush green forest started to turn in to hills of short tea plants. Unlike the ones in Munnar, they are so mesmerizing and gives the landscape a vibrant vibe. At Valparai, we had some Dosa and Omellete for lunch.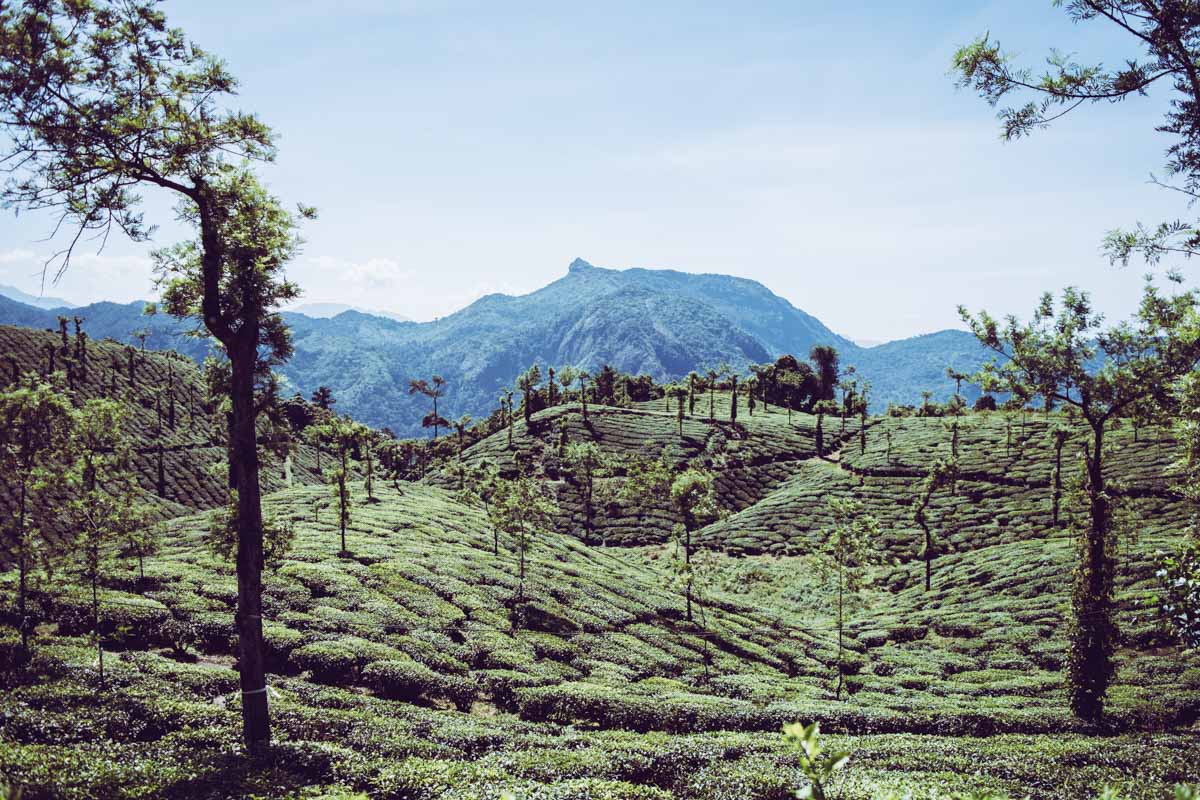 We had 250 more kilometers to go and were looking forward to the famous Valparai Pollachi Road, with over 40 hairpins and hypnotizing sceneries. We were met with crazy hairpins. The ones that make you hard to control a heavy bike. That combined with all of our previous day's sleepless night, it drained us mentally, but thankfully we were soon in the plains of Tamil Nadu. And it was hot but we refueled and kept going. We didn't stop anywhere or take pictures later. All we wanted was to drive all the way and of course, there were not many places to see anymore. Before reaching Pollachi we took a left to the road less taken. One that leads straight to Vadakenchery in Palakkad. The straight roads through coconut plantations are always amazing especially when the roads are of the best quality in India. It's so good that we realized we were in Kerala just by the condition of the road. Tamil Nadu roads are super cool even in the most remote of places. Realized this on my Munnar – Kodaikanal Trek where the road to a remote village in the valley was better quality than that of a Kerala State Highway. While Bajpan and Binu took the Nenmara Route, I used the road to Alathur to reach the National Highway. Both of them were more of a 'time travel' route, taking us back to the old village setup – huge paddy fields, ponds where kids were enjoying the evening and people going to temple festivals. All of that soon faded into the busy Highway, where we opened the throttles and waited for Cochin to come. We reached back by 8.30 PM. We traveled almost 487 Kms, through lush forest, tea plantations, wildlife and dry plains. Some people think its crazy, in a way it was. But you don't know how awesome you feel unless you experience it. So, take my advice. Take the same route. It's tiring but deeply satisfying.
All the pics were taken by @binu.