After the Trek from Munnar to Kodaikanal, some of us were on the lookout for much bigger challenges. Even if you are living in a state with hundreds of places for sightseeing and whatnot, there are very few (long) treks. Of every trek you could go to, the Agasthyarkoodam trek tops the list.
Agasthyarkoodam is the second biggest peak in Kerala. The first one is Anamudi, although it's not really much of a trek to get up there. Basically, Agasthyarkoodam is the highest peak in Kerala that you can climb. It's the most difficult trek in Kerala, involving over 5000ft of climb in 1.5 days. It takes 3 days to get there and come back to civilization. In those three days, you climb through the forest, a steep grassland, more forest, and lots of rocky mountains. We tried 2 years to get our names on the list for a season. This time around, because of Corona the trek was supposedly canceled. But then Bajpan calls up one day in January and asks if I want to join a team that's going for the trek in 3 days. My eyes widened and I knew I had to grab the opportunity right then and there. I said yes. Although, for some reason, we didn't get in for the said dates… But finally, for a later date, we got in.
The Day
There I was, on the 26th of Feb, at 2 AM in the morning, at Ernakulam North station, waiting for the train to come to the platform. Bajpan, Zilu, Shaan, Midhun, and Oleena were boarding from Guruvayoor. Zilu organized the entire team, in fact, she runs a travel company focused on women called Parava. And Shaan is an up-and-coming travel vlogger. And while I'm writing this he is on a journey to the Himalayas on his bicycle with a couple of friends. Others were to join us from Trivandrum. We all were meeting for the first time. We exchanged pleasantries and tried to get some sleep on the train. And we reached by 6 AM. Agastyarkudam is located approximately 60kms away from Trivandrum. Although getting there is harder if you are going for the trek, either you need to have a private vehicle or the only bus to Bonacaud is at 7 AM from Trivandrum. We met Preethi & Hema at Trivandrum, both residents of the city. Preethi sells her absolutely mind-blowing cakes through her Facebook page. And she brought us amazing rum cakes, little did she know that eventually, it will get her a nickname. We got on the bus and on a 2-hour journey to Bonacaud, a long-lost tea plantation. Now the only residents there is the next generation of tea plantation workers. Interestingly, Bonacaud was unaffected by the Corona virus's first wave. There is only one way in and one way out. Before getting to Bonacaud, you need to verify our tickets at the forest check post. After the verification, you can hop on the bus again all the way to Bonacaud. From the bus stop at Bonacaud, there is around 1.5kms to the start of the trek. Our team was accompanied by 4 other teams all from Tamil Nadu. There exists a pilgrimage to the Agastyarkudam peak, which most Keralites are unaware of.
Trek Starts
The first day of the trek is all about reaching the Athirumala base camp. Each team was given 3 guides when we reached the first camp. They will carry our food supply. All of them were from Bonacaud and have gone to Agastyarkudam more times than they can count. Agastyarkudam is mystic, and lucky are them to have seen it all. It by all means is a dangerous trek, more than the weather… you are under the constant threat of wild animals, the wild Indian buffalo killed a guide the year before we visited. And there are more wild elephants, boars, wild cats, and bears to name a few.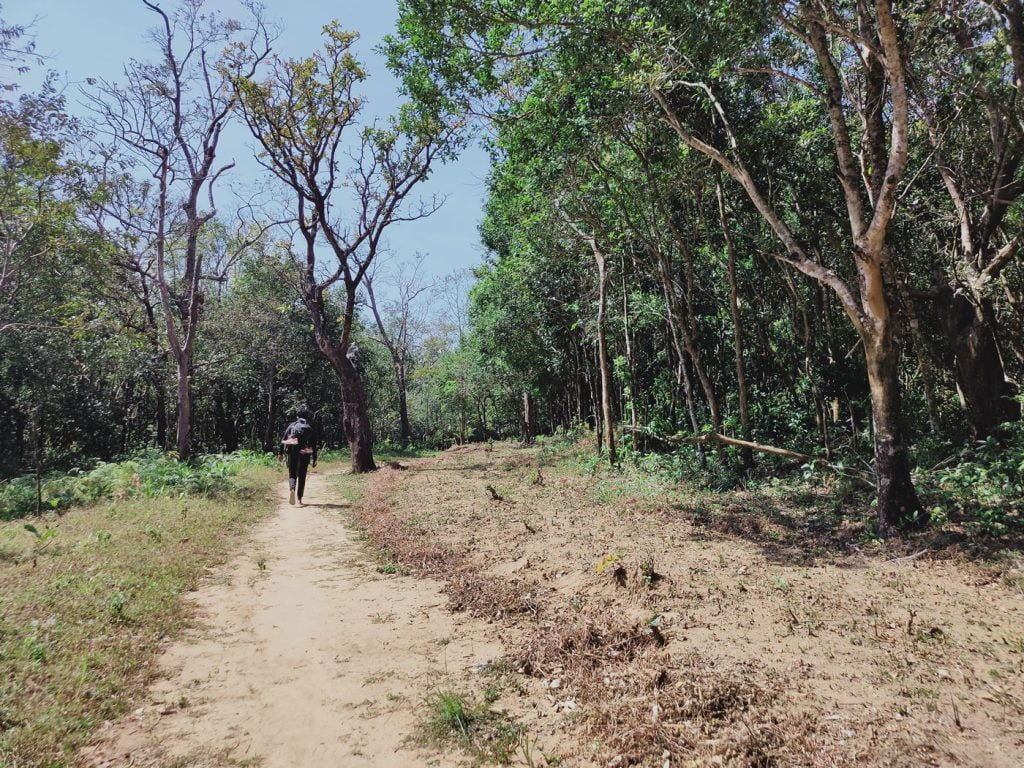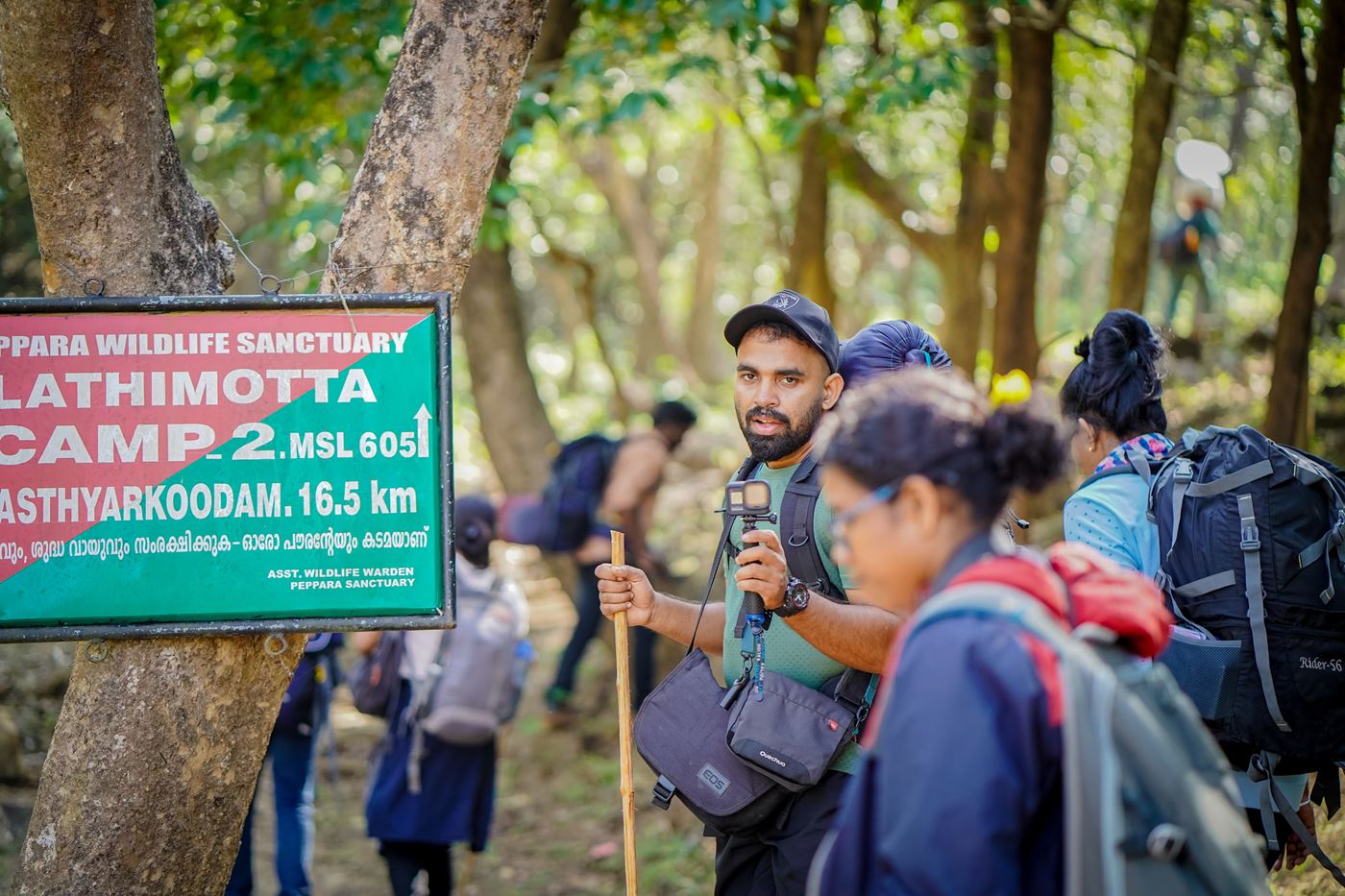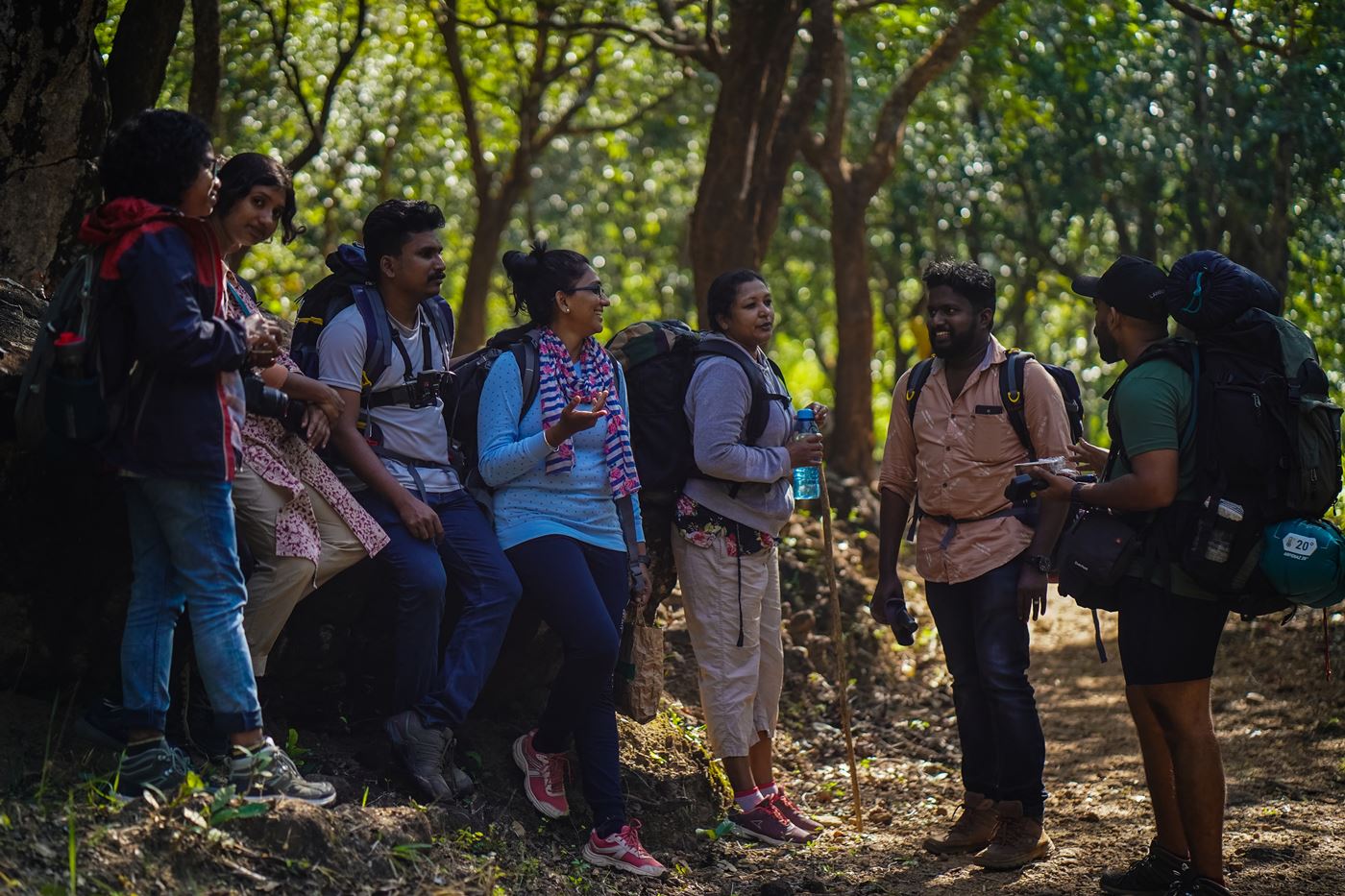 We packed our lunch to eat on the way and before we ate, we jumped into a creek to have a nice cool bath. The immense pleasure the cold water gives after trekking is just incredible. We repacked everything. Filled up our bottles from a camp called Attayar because the guides said that's the last source of water in a while. I wondered why.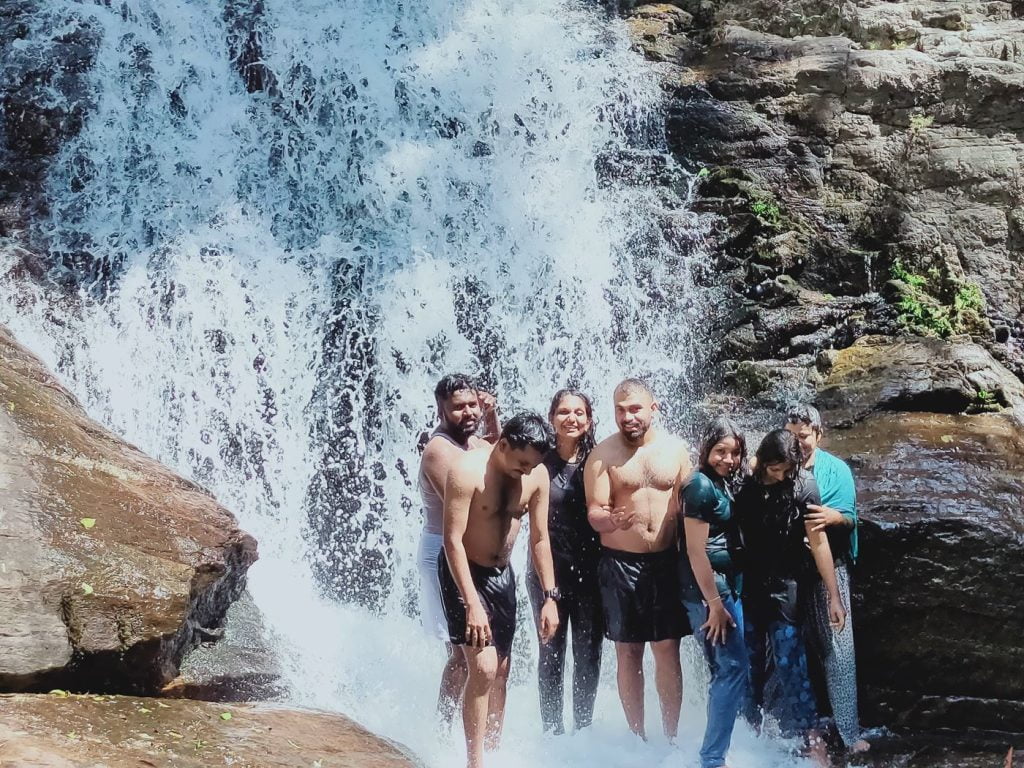 And soon I did find out why. After the bath came, really steep hills and the trees suddenly started giving way to a huge grassland. And the sun was not forgiving either. The cool breeze was quite relaxing though. The grassland in some ways was quite haunting. There was this huge expansion of nothing but grass and mountains around you. The grass was cut by the sharp teeth of wild buffalos and fresh tracks of buffalos on the soil. Buffalos are scary. You could see or even a tiger and they seldom attack humans. Most of these animals do not attack humans unless threatened. But buffalos… they always strike preemptively. And that was the first time I saw the Agastyarkudam peak…. so far up in the clouds. I gulped, unable to contemplate how I am going to get there.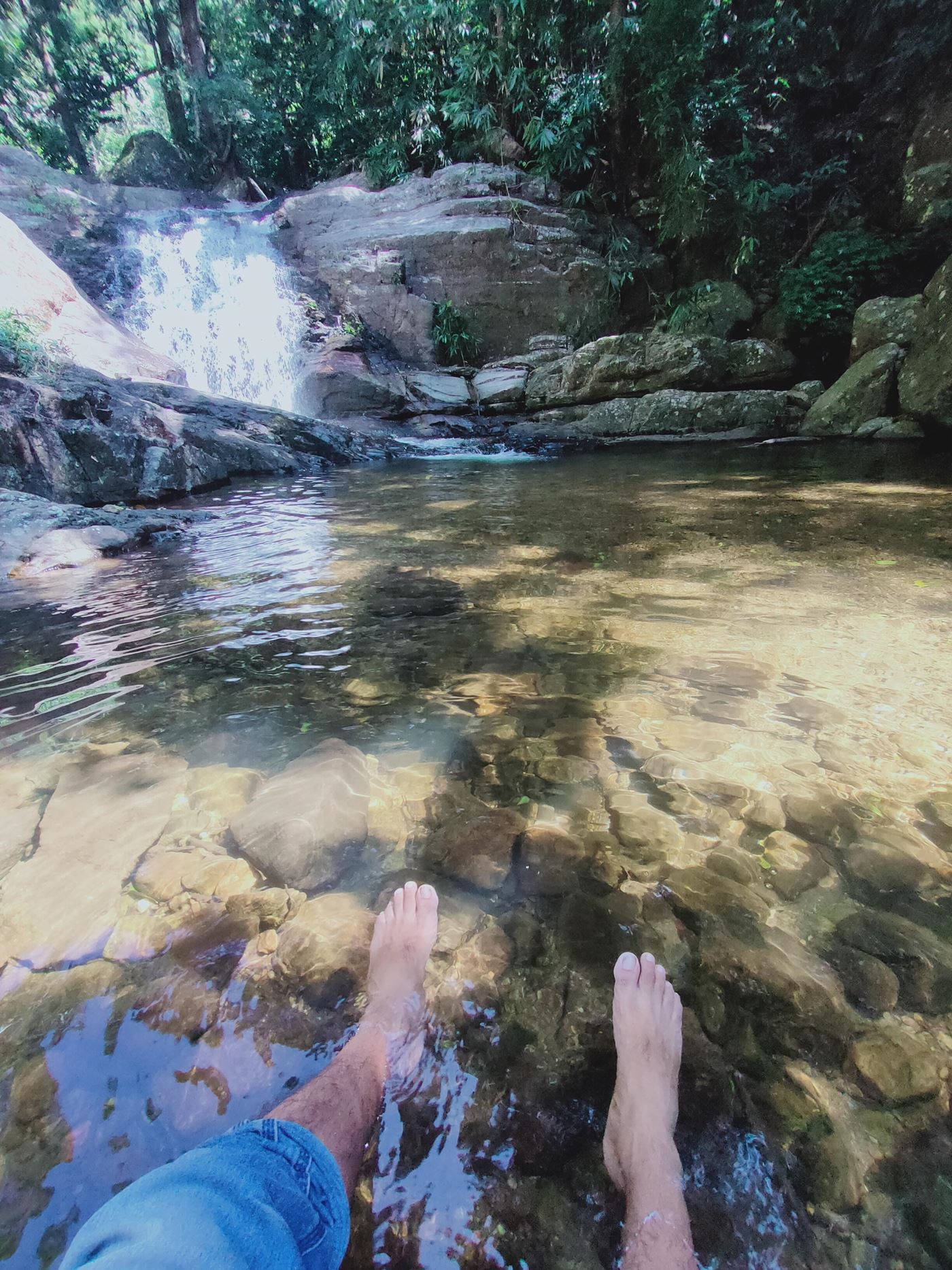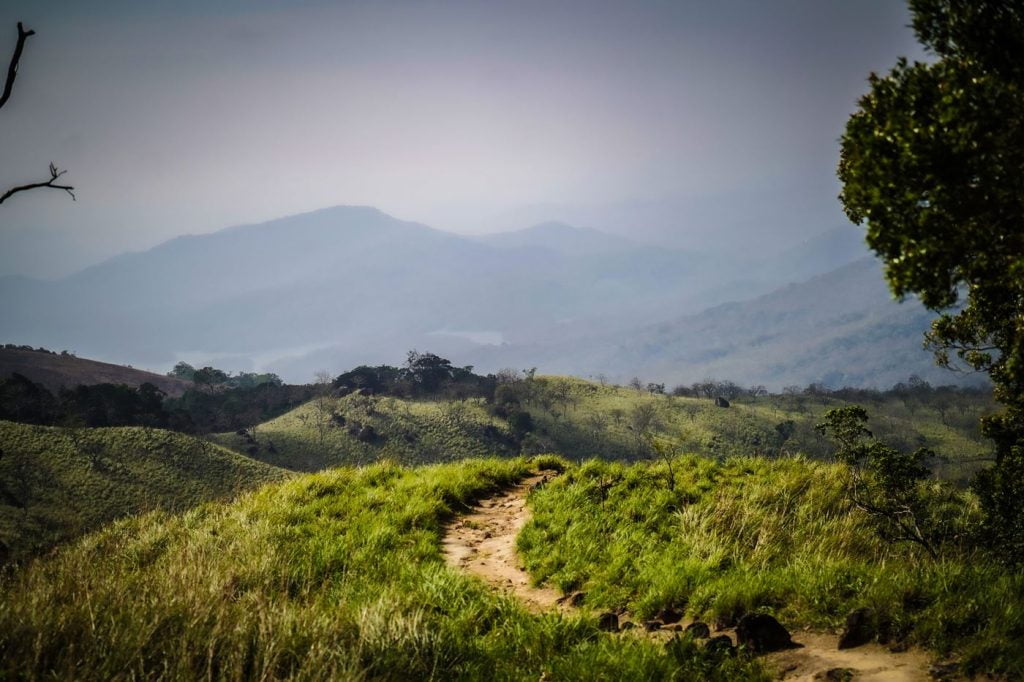 After walking, god knows how many km, grassland gave away to thick forest and steep climb through it. It was so thick that at 3 PM, it felt like its 6. I and Preethi walked ahead, we were for some reason doing the same pace, and looking around to hear the birds and wind on the trees were mesmerizing. If you listen carefully, you can listen to numerous things that you otherwise cant comprehend. On top of that hill is the Athirumala base camp.
Staying at the camp
Agastyarkudam is a mystical place. You feel it all the way from the beginning. It feels almost alien, to be dramatic. Being from the small town of Perumbavoor, which is surrounded by the forest, & spending a few years in Pepperland, Idukki you would think that it would be similar. But no. There is something very different and unsettling about Agastyarkudam. It could be the feeling that you can get jumped by an animal at any time, could be just the way you feel that nature is trying to hide something from you.
Part of the fear comes from the fact that you notice a few things right away. All the camps along the way and especially Athirumala are surrounded by deep trenches. some even 12 – 15ft deep. In Athirumala base camp, there is only a small walkable bridge on one side of the camp. The instructions that are given are clear. No one wanders off the camp after 6 PM. No one goes to the restroom at night alone. You always go with someone else and even if you are just accompanying someone to the restroom, you get in another one and stay there until the other one has finished their business. You always carry your torch with you.
Another thing about Athirumala base camp is the wind. Winds that feel like a tornado. It's always windy, It blows into the camp's aluminum truss, making you feel like you are sleeping on a runway and planes are landing on top of you every now and then. The aluminum sheets whip themselves up and down at huge winds. The cold creeps up to you in that kinda wind. It's not particularly chilly, but I realized what wind chills are. The guides said that it's not always windy there though. But for the two nights we were there, it was.
After we reached the Athirumala camp, we went by a creek nearby to bathe again. The water was so cold and we talked a lot there for an hour or so. The view of Agastyarkudam is mesmerizing from the camp. We came back and had an early dinner at 7 PM, there is not much electricity. A few bulbs are powered by solar and they switch most of them off by 8 PM.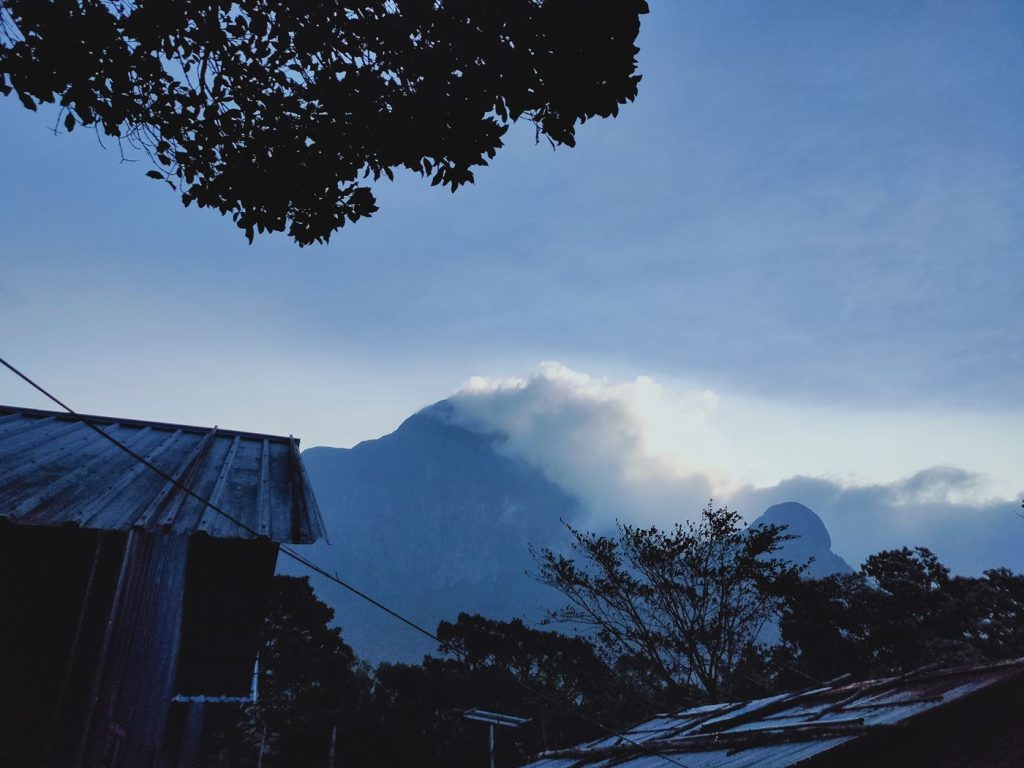 Second Day
We woke up by 6 AM. Getting dressed and without wasting time, we set out to climb by 8 AM after packing our breakfast to have it on the way. What started off as a thick jungle turned into big bushes… And as we started climbing the views became breathtakingly beautiful. There is this small valley kinda place where a small stream runs through the middle and falls into nothingness. On the other side, in the distant mountain, we could see a group of wild buffalos roaming, the white bottomed legs of the alfa males clearly visible. We had our breakfast there. And what came next is a stretch where your knees hit your chest. The fog slowly unleashes itself over us, as the trek becomes hard and slow. They are so steep, that there are ropes to help climb, and I even lost my way for a minute because I couldn't figure out the way up.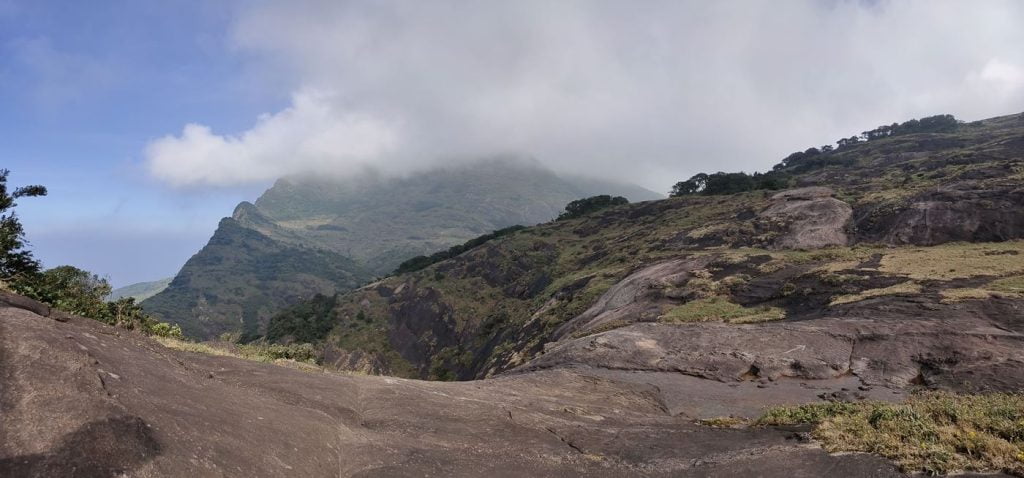 As you go up, the forest becomes mystic, making you feel like you are in heaven. Every breath of cold air that you breathe feels like it's adding a year to your lifespan. The temperature begins to drop without you realizing it cuz you have been walking and sweating for a good few hours.
After this small stretch comes three almost vertical climbs, all of which you have to do with the help of a rope. And at the end of these three climbs is the top of the second-highest peak in western ghats. At the top, you are inside the fast-moving clouds… the wind speed is so high that sometimes you might feel like you could lift off. I jumped vertically and landed a couple of feet away, it was that fast. Then comes the cold, the cold wet air that pierces your clothing. After a while, we found a small area on the other side of the top, where the winds don't hit you and it was much more bearable. And we lay down there in the grass, looking at the moving clouds. I might not have a proper picture of what to show you from up there, because it was just white clouds around us.
At 2 PM we started our descent, with a kind of memories that none of us have experienced before. The thing about Agastyarkudam is that you always want to go back. With all the mysteriousness and danger, the forest calls you back, and you tend to answer.