I just cant remember what was going on for the last two weeks. I had a hell of a life. 17th, 18th and 19th January 2012 (Thursday to Friday) were the Annual Sports meet of College of Engineering, Chengannur.
The whole college was divided into 4 houses, the Reds, Blues, Yellows N' Greens. And one of the main events was the March Past, which was done by the first year students, including me. It had lots of points. Plus our seniors took it very seriously. It was like a war in the college.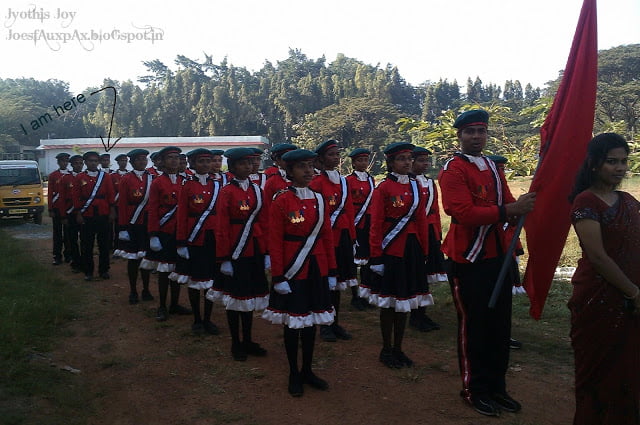 I was in the Reds, n two weeks back we started practising for it. I have done march past before, in my school so, first thought it would be easy. But the bad part of it is that i was doing shit. The worst part,  we were practising 3 hours a day. All I wanted to do after getting back from college was to sleep. And that was what I was doing all the time, in hostel, in class n' everywhere – sleeping.
In two days, my back pain was back. Last time I had it during the vacations while I was spending hours in front of my computer which showed 8 days of Up time. And it usually do come back when I  drive bikes.
Anyways, on Friday, the 11th of January, I decided to get some rest and go home. I had to keep the stress down. It was a lot of work ( for me ofcourse, I'm not much of a sports guy ). And moreover the series exam results turned out to be real havoc.
So I was in my home on Friday.., nothing much to say, the usual stuff, power naps, computer, mom. The last two together turns out to be a real bad combination.(Don't ask!).
Then I was back on Monday. We had a mock drill on Wednesday evening ( Day before the Sports Day). We screwed it.( Again, Don't ask!) All of them were depressed. I was like, "Shit what f** just happened?". I went into my usual 'rewind that' stuff, I use it to find out what went wrong. I figured out the mistake, Thankfully there was nothing I could have done to make it right. I just thought of what that great captain once said "The problem is not the PROBLEM. The problem is the attitude towards the problem." The problem was that we were not doing the march past well. And damn! Captain Jack Sparrow does make sense at times. It was all about attitude. And the seniors were really pissed at us.
We had to report at college at 6am. I woke up at 5, AT 5, that's something I haven't done in an year. I injected my blood with spirit and attitude. I was god damn good n' ready! We had to make to it right this time. Two weeks of hard work, 10 minutes of performance. we all knew the facts, Blue had a high profile when it came to march past. We had to put a lot into it to make it work.
Now the funniest stuff of the day – The costumes! Take a good look at the picture. It was like a bunch of British soldiers getting ready for war during those 1940s. And it was a war! war with blues, yellows n' greens.
The venue was Public Stadium, Tiruvalla.- The nearest town. I was going crazy in my mind, The air smelled tension, I said to myself, "Lock n load kiddo! Its time! Do or die! Get killed!" But still I was scared inside. I hate crowds, parties and anything social, except maybe the Tech Talkz, BCKs, geek parties, and anything technical.
There is nothing much to talk about what happened later. After the march past, we were asked that we did really good. Thanks to Rony Alex for popping the Party Popper at the right time. (We had this march past dispersal- the war of colours, 😉 ) So everything went well.
I had nothing to do after that. No running competitions, jumping or whatever others do there. I am kind of guy who thinks a lot and does nothing physical, I am well known for my laziness too.( I know its not a thing to brag, sorry.) So rest of the day, I became the volini boy. You know the guy with Volini in one hand and water bottle in the other, to help out athletes in pain or bad shape. Later I had lunch with Aiswarya and her room mate Sharanya. Oh! and if I haven't told about Aishwarya, its time. She is my class mate. First thing about her, She talks a lot, so I make sure that she calls me. secondly, we call her Chingumol.( I put that name, still don't know why or what it really means.. 😛 ) Thirdly, she is totally trustworthy and reliable. I don't know how the first and third works together. But it does work.
I was getting a bit uncomfortable with the crowd so i decided to go to hostel, pack my bags n' go home.
After a day, while I was writing this, I just called up to know what was up with the results. I just cant control my happiness… We did it. The work just paid off. First in the march past! My first best new year gift! 😀
Although, Reds became 3rd in the overall points, I was happy. (Blue first n' Yellows second.)
I am breathing awesomeness!! Looking foreword for seeing the flocks and sharing it..
Stay tuned..

Updated::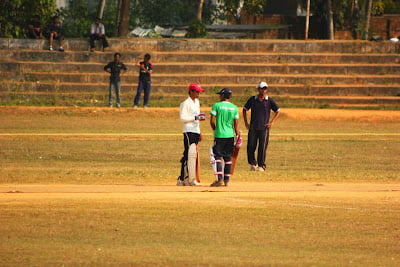 Cricket Match