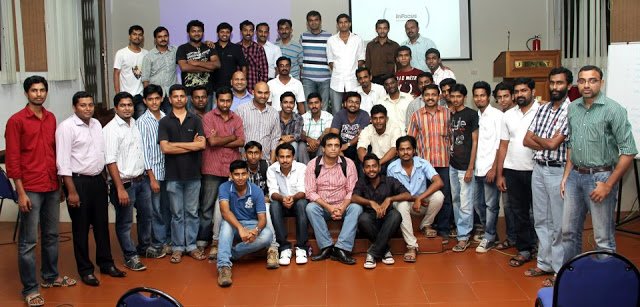 Its my first Barcamp. Although I had heard about It a lot I never got a chance to go.
On 14th November, I waited for my Friend, Arun Basil Lal, In the bus stop. We  agreed on beforehand that he will pick me up from there, But he never showed up. I called him a hundred times n he didn't answer. Later his dad gave me an explanation that he was busy with his work at home (sleeping). So I caught the next bus to Angamally From there to Mukkanur  In another one. I met some other guys In the bus and we together took an auto to Federal Institute of Science And Technology (FISAT).
I thought I was late but Barcamp was just getting started. Praseed PaI was just explaining about the Barcamps to the audience.
First session was by take n by Nijid Pasha – Healthy Usage of Electronic Media. He explained why and how youngsters misuse the Internet and electronic Media. And suggested ways to control this misuse. It was a very Informative one
The second session was about FOSS – More Is yet to come. By Praseed PaI K T. The crowd really enjoyed the session. All of us were expecting the positive sides of FOSS. But the speaker managed to stress more on the Mess created by the FOSS like Barbie doll effect.
Then came the "Deentancy Management with Composer' by Hari K T. The main things discussed where management tools for PHP, Eath and his FB search, a tool by which we can search our own past status updates.
Jofin Joseph later had a session on 'BusIness AnalytIcs'. He described In deep how Analytics works and how we can use It to run our business effectively.
As usual (although It was my first), Kenny Jacob came up with his 'FaIled BusIness'. He explained how his awesome Idea sink ed due to delays and recession. He told us what exactly he learnt from his experience. N ' what exactly we must not do In business.
According to me 'Source Code' by Nelvin Joseph was the core of this Barcamp. He talked about DNA, SWARMS n' finally Universe and god. It was a great topic. He had no answers to deliver, but I bet he made us ask  hundreds questions In our minds.
After a heavy meal and great talks with people around, Nirmal T V gave an Introduction to 'WIndows 8'. The platform had a lot of change In appearance compared to the earlier versions. And the Microsoft app store reminds me of Google Play.
'Story of a Casual mobile game –'Tic Tac Toe Neo' ' by Dhanan Sekar Edathara was also shared a good experience. He said how he quit his job and made a flash game and how he Introduced Tic Tac Toe app In android market.And how It spread viraly.
After that came a session by Birbin Mathew Joseph – 'Google Getting Next Billion OnlIne' He gave an Idea of current statistics of the number of people In the Internet now and what will happen In the future. And I loved the concept of Google Bus.
'Mobile Express' by Vishnu Gopal was one of the best sessions In bck 13. It Is revolutionary and I believe Its the future. Its simply a SIM card which contain digital signature. Its one revolutionary cuz' It changes the way we handle money. It will be like 'money = mobile'. And Its safe and secure.
Most Interesting session was 'The Lagaan Style Management for BuIsness' by Saagan Pappachan. He used the Lagaan film as a metaphor to explain what we should do as a manager or as a responsible person In the company to make wonders happen.
I was said that Barcamp usually ended with a political talk and this time It was about 'PIrate Party Of IndIa' by Jemshid K K. It was the first most of us ever heard of something called 'PIrate Party'. It was totally Interesting as It had some smart ass Ideology working behind It.
Finally the clock struck 7, and bck13 ended with the Photo shoot, warm byes and 'see you at bck14's.