Hey!!
After a three bad days of college, I just got something to keep the fingers on the keypad again..
After a few bad days, I made another milestone, Drishti. 6th September 2013, Friday was full of 'SIC' (Sleep In Class). But by evening I was in full energy. I was so excited to go to Drishti , College of Engineering, Trivandrum Tech Fest.
At night me n' few friends planned to go for a film. I don't know how 'The Chennai Express' made it to the 'Hits'. I found the film Crap… After the film me n' my friend @Sharat Chandran went to one of our hostels, 'THE' Thamara. We celebrated another buddy, Vishnu's Birthday at 12 in the night. Later I found myself watching another movie in David's room. The time passed, we had a train to catch. So we both (Me n' Sharath) left Thamara at 3.00AM and went back to my place. I packed my bag a quick shower, and then phew…!! We are in Railway station at night 4.00. Another buddy, @Arun Nair joined us in the train. Train was late and it arrived at 5.30 in the morning, we met some of our gal  cum'friends in the railway station. And @Rony and @irene in the train.
We had a 3 hour window so watched 'The Epic'. Nice film. We reached Trivandrum by 8.30 hrs. The train journeys are not always boring, not when you are with friends. In two years, there are only very few journeys which were not boring, I can count that, uhmm.. just one.. AKC. I went with 30 others. We sang, danced in the train, and others finally told that we were too disturbing. And when we came back, I found myself in a super busy train with @Cheeni. I talked with her for almost 6hrs, in a stretch, I didn't feel bored, not even a bit. The question is 'Did She??' I hope she will answer it one day.
So, moving on… We went to the Indian Coffee shop, opposite the Trivandrum Central. It's second time I am eating from there. The building itself is very famous. It's built in baker's architecture. It conserves lots of space and money. We had poori.
CET is 45 minutes from Thambanoor, that is, the place where railway station and the coffee house is located. We reached CET by 9.30. I met my best best friend there, @arunepyon. And I registered for the general events. I always make sure that I keep a safe distance from stage. I am glossophobic. But I'm kickass with anything techie.
So, the starting of first day at CET was a bit boring, until 12.30. I joined for an event called 'Eureka'. They asked us to make something with the idea that they give. But the problem was that it was a team event and I was alone. But fortunately I found out someone there. @Lovinsha. And we helped each other. They first asked us to make a catapult with a bottle, a scale and some rubber bands. Five teams with the maximum launching distance got into the second level. We secured 11.4 feets and the second level was to create a design that will convert rotational motion into reciprocating motion. it was so easy, but still we finished second. Then came the twist, after everything, Lovinsha found out that the wining team's model won't work, it just don't go with the exact definition of 'Reciprocating motion'.
Anyways, 1500 bucks was something. In the evening me, Arun and his friends went to have food. Of course it was my treat!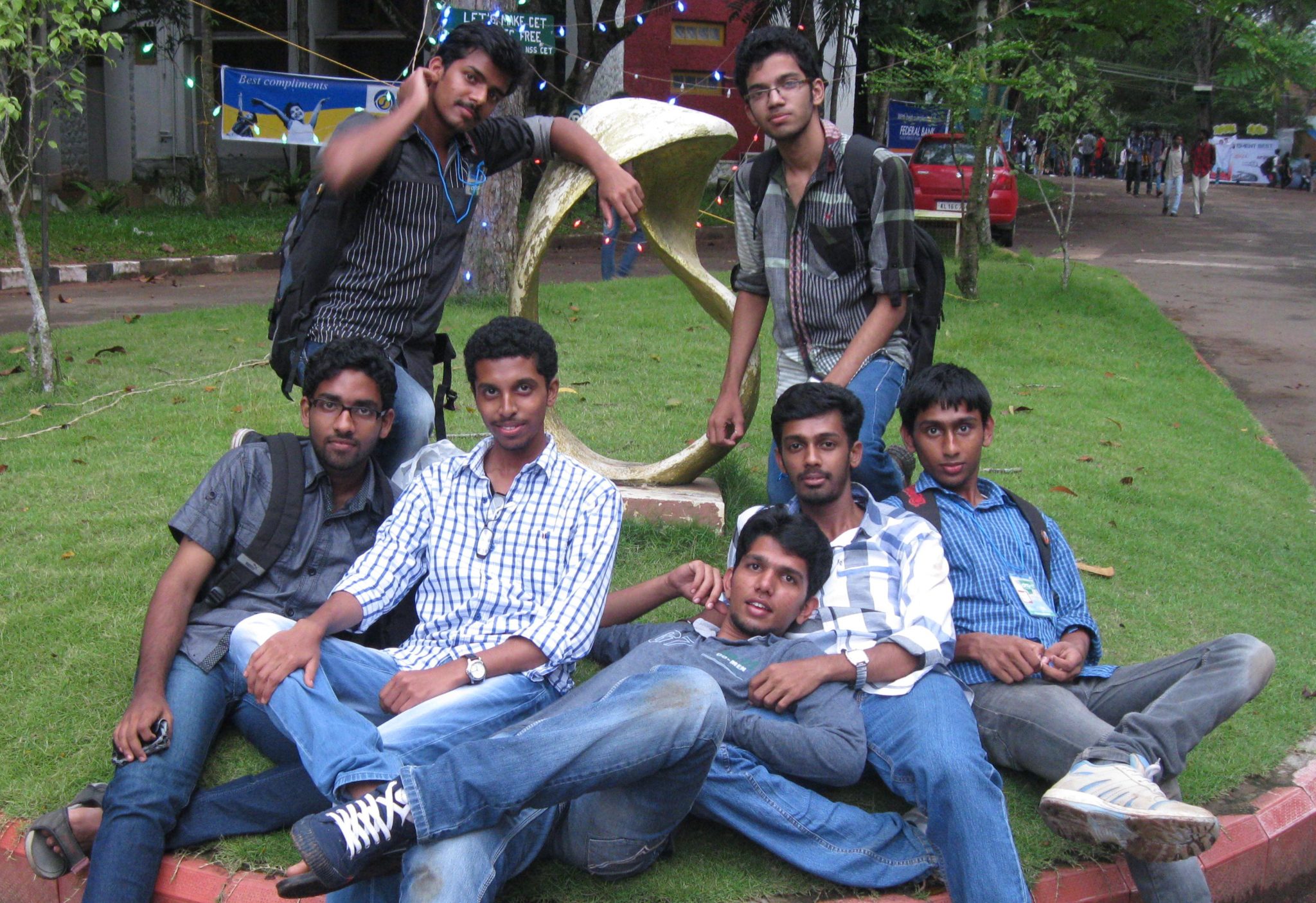 I slept at Arun's place… Next morning was horrible as i had nothing much to do, until Lovinsha called me again, saying that he need one more person in another competition. It was named 'Complicated Machines'. I never got to see the prilms as Lovinsha already cleared it. The question was to draw a system which will water a plant in the most complicated way possible. I joined him for the finals and the question – put the first question into practice! they gave us some stuffs.. and in particular a bottle and cup… We tried as much as we can, ended up with not that bad thingy, although I doubted if it will work.. All the trials were disaster. But we did some adjustment and it 'somehow worked'.
Another second prize, later we learned that we got a prize because the 3 of 5 teams design didn't work. 😛
I loved what happened after that, we played paintball… oh yeah!!
Me, Amarnadh, Aravind and Vivek formed the team of four against another team of . Vivek was the first one to get knocked out while I and Aravind hit two guys. Then i hit another one on his face. I dont know when the Amarnadh got out.  Finally it was me and Aravind against one. I improvised. It all ended when I shot that guy just a few meters away.
I always wanted to shoot someone.. 😛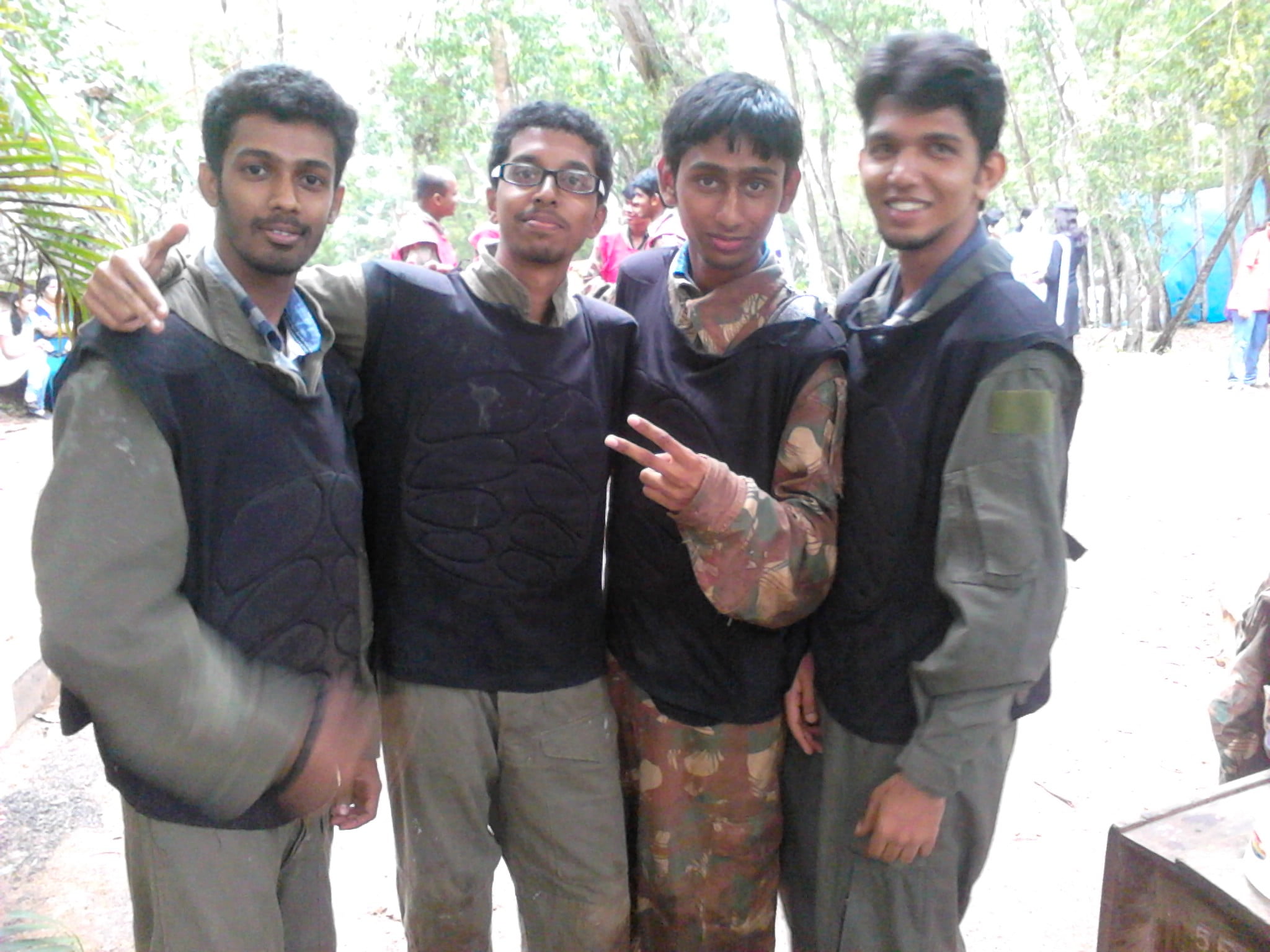 After some photo session, we got back to Trivandrum from CET, back into the Indian coffee house, had our dinner and on the train back to Chengannur…
It was all fun and peace and love…
More to come, keep reading!!