Last day, I was looking at the pictures in my phone. It took me half n hour to go through all 556 of them. I had a feeling that i was not travelling enough, that i just wasn't living. It turned out to be wrong. For the last one year, I travelled like crazy. Lots of events n trips.
An year back, I was in the rain at night, driving my dads bike. Everything around me was cold. i remember, it was my birthday, one of my night rides. The day i decided to live my life, take it as it comes and never postpone anything. I saw things that i never saw in my life. I realised how much beautiful this world is. And everything seemed to come to me to that one point in life. I had to get back on my feet and live again, travel, fail, succeed.
But when i saw all the pictures. Voila!! I did it! At least more than I expected i can. August and September are always special for me. The most contrasting things happen to me.
This year, every week had an event. Starting from Satvika (IEEE Kochi Hub WIE(Women In Engineering) Congress)(CEC hosted it), All Kerala IEEE Student Congress(AKC) in Kannur. Coming up events are DRISHTI(College of Engineering, Trivandrum's Tech Fest), Takshak (MA College's Tech Fest), A quad Copter Workshop in Barton Hills and a tech fest in SCMS, in October.After the first series, the very next day, me n' my two (of three) roomies started of for a trip to Allapuzza. The plan was to get there by 14.00. There is this 'See Kuttanad' thingy by Kerala Tourism. A boat that takes you to kuttanad and show you around. The plan was to get a ticket come back and go to the beach, and get back to the hostel.We three, Allen Pious and Akhil Jose and me, left the Chengannashery Bus station at 13.00. It took us an hour to reach Allepy. Allen was our guide. ( The Worst 😛 ) cuz' he is from the place. He said there we have to walk a little to get to the boat. Later after walking a bit we figured out that we had to walk the opposite way, only to learn that 'See Kuttanad' was in the evening only.
So.. we had to ditch the plan. We walked a bit to the place where we can get the bus to beach. On the way we saw a church and we felt like we should visit. And we walked towards it. Only to be stopped by the security guy. And he started to 'interrogate us'! Seriously, he asked us all sort of stuff, the only one i remember is, "Are you Christians?" I wanted to ask back, "Why? Are Christians the only one allowed in church? " But i kept shut n didn't wanted to ruin my mood, totally ignoring him. Akhil did all the talking. It took us 5 minutes to get rid of that guy.
After the church visit, we saw a place where they sold biriani for just 50 bucks. The thing is, it was worth the money, but not the best.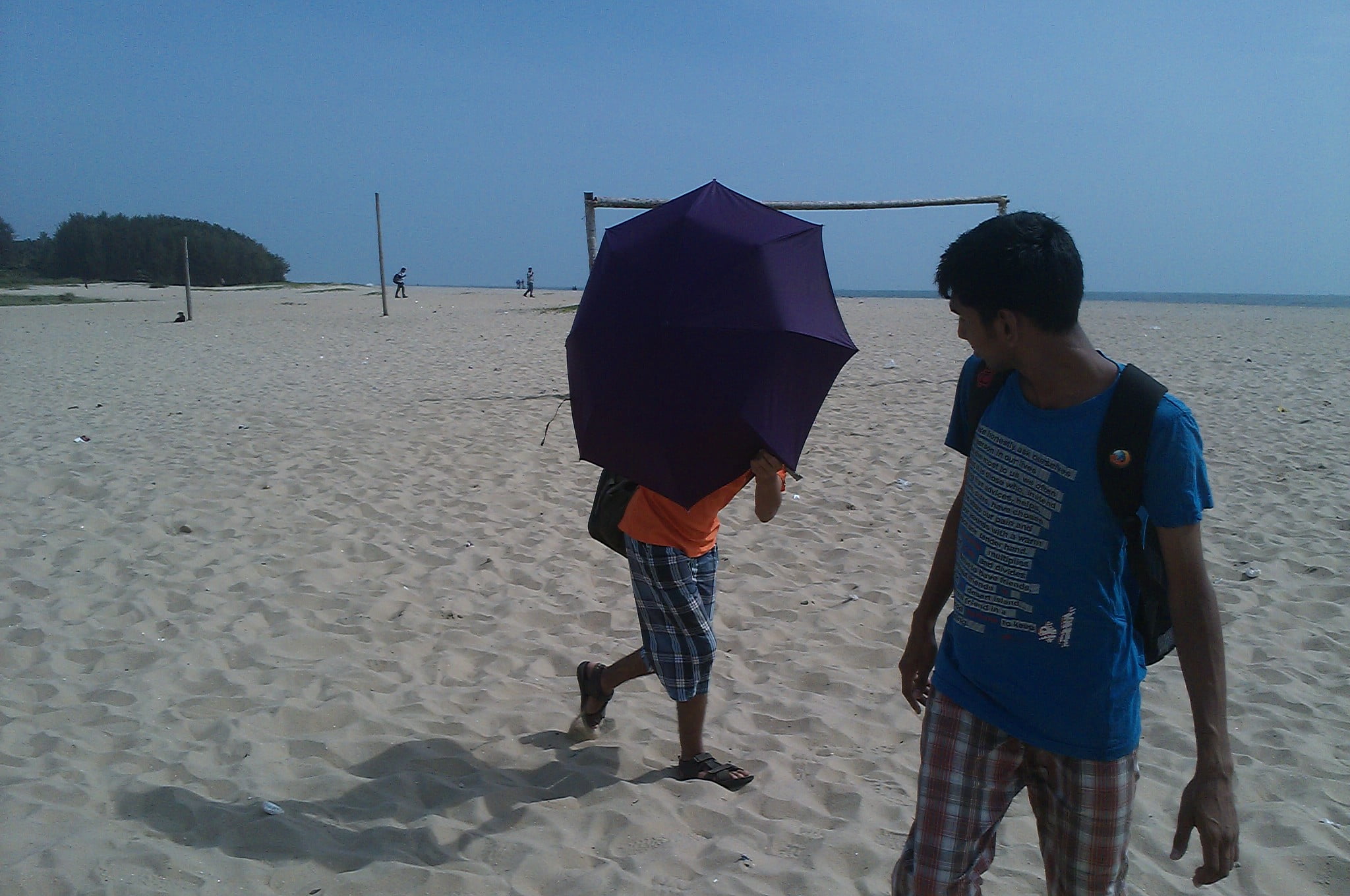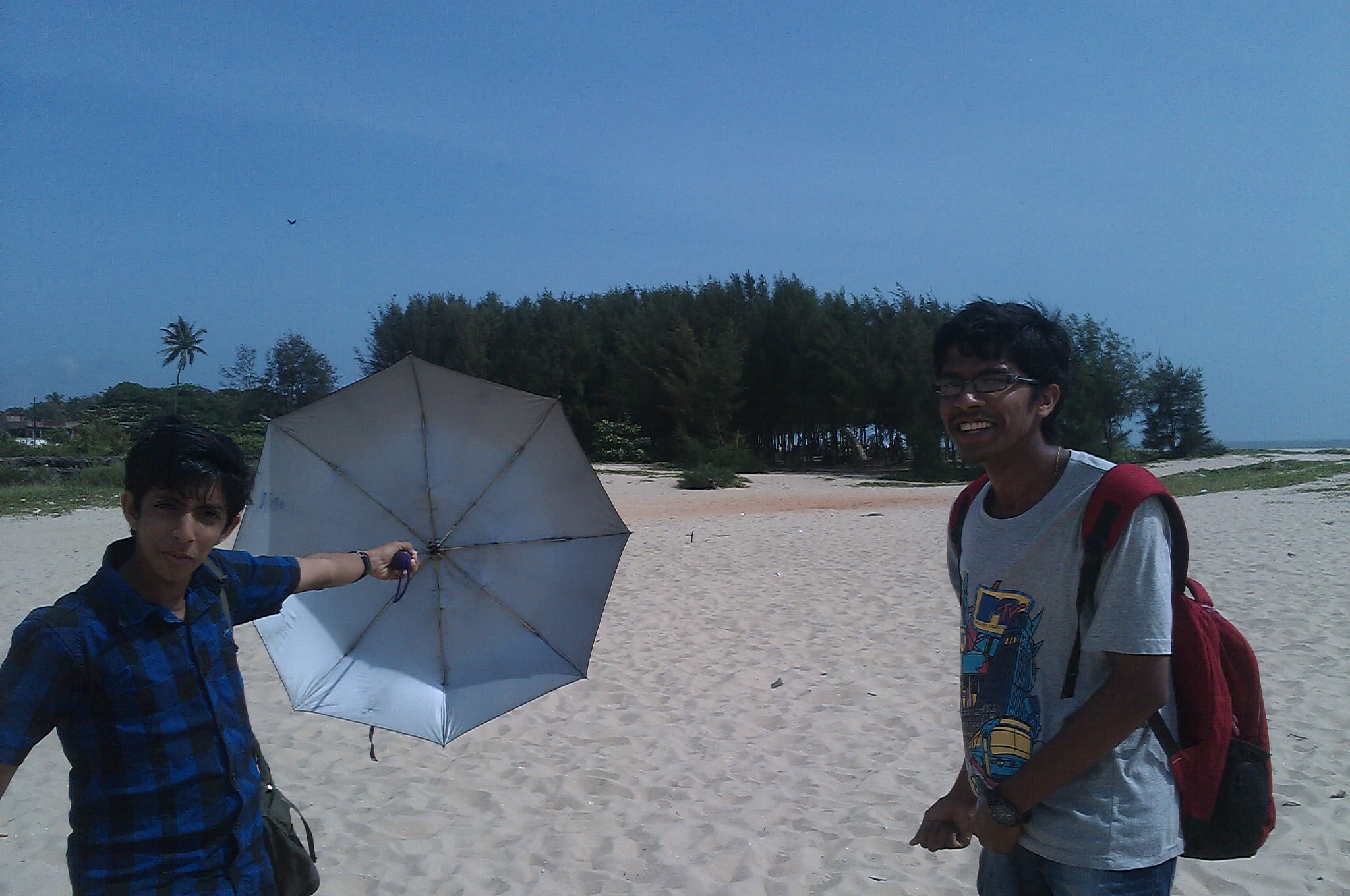 We got to the beach by 15.00 hrs. Walked here and there, roamed around. After a while, Allen  told that there was a light house near by. We agreed, excited. I have never been to one. Again, our guide lead us into trap. We had to walk a km looking for the light house. we found it in the horizon, walked towards it, only to find that it was closed for the day. We were shit out of luck. The day seemed to be bad. Akhil was like, "Somebody is gonna drown today." "You guys are not talkin about me, are you?" said allen. After resting a while we made our way back and then came the call of nature. And I straight away went into the water.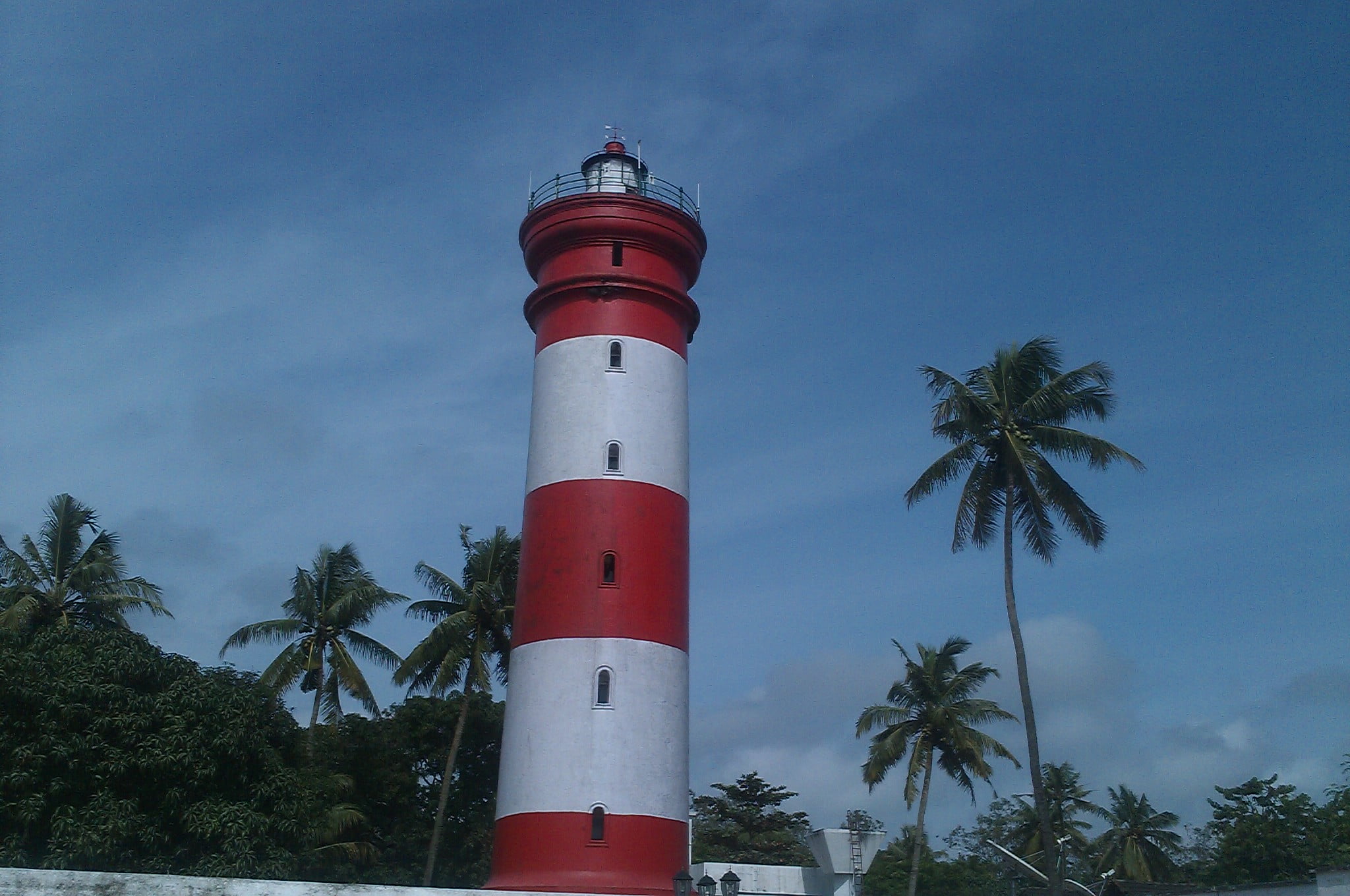 For the next few hours, we were crazy in the water.  After somersaulting a bit and some injuries, we started to build a sand castle. Man! truth to be told that was the finest one i have ever seen. It was close to the waves but we built a three layer protection and it worked perfectly! I felt like "Born to be engineers".
After paying in the beach, we got dressed up and went to the Railway Station. To see if there is any train. But again, unlucky. I always wanted to walk in the rail way tracks and i did that on my way to the Station. (We took a shortcut).
Then, again back to Chengannashery by Bus. Had a great dinner there. We all had Chicken noodles and Chilly Chicken. And then after an hour, i found myself back in hostel, washing my clothes!!
That's all for now, there are more stuffs coming up